Babolat Shops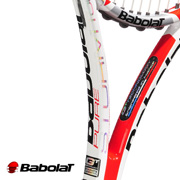 Based in France, Babolat started in 1874 making strings for various pieces of sports equipment. In 1994 they decided to make the rackets too, and although well known as 'the tennis company', Babolat also make some superb badminton rackets. With a long list of sponsored tennis players using Babolat rackets, it's not hard to spot the name on TV screens all over the world during the long tennis tournament season.
Apart from the strings and rackets, Babolat also make a range of accessories to match – items like tennis balls, shoes, grips, apparel and bags to carry all the gear. In addition, Babolat also attend to every detail with ball clips, wrist or elbow supports, vibration absorbers and even marker pens to reproduce the Babolat logo when rackets have been restrung! A global network of traditional and internet based retailers, ensures that customers are never far from a Babolat shop.

In badminton, the story is very similar to tennis. A superb selection of high quality and perfectly balanced Babolat rackets, with strings, shoes, shuttlecocks and clothing to match. Once again, Babolat sponsor some of the world's leading badminton players, and with their continued investment in design and research, there's no doubt that Babolat rackets will continue to be at the top of their chosen sports.
RECOMMENDED CATEGORIES

Whether you're looking for badminton clothing, rackets or other accessories, you should be able to find them all at these specialist shops.
Visit the Badminton category >>

Tennis shops are always their busiest in the UK when Wimbledon takes place - but these shops are busy all year round.
Visit the Tennis category >>