Mountain Biking Shops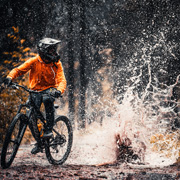 Mountain bike shops are some of the most popular and prolific sports shops in the UK. With cycling of all types becoming more and more popular, and families enjoying the open air together, there has been an explosion in the number of dedicated mountain bike tracks set up all over the UK. With special frames, wheels and gearing, mountain bikes are rugged, hard wearing and specifically designed to withstand harsh treatment and terrain.
Most mountain bike shops will have specialist staff on hand to help customers with information about suspension, brakes, gears and tyres, and many models will be built individually to suit a userís weight or height. Online mountain bike shops can also supply a similar level of support via dedicated telephone help lines. Accessories are an important consideration for riders, as protection is a number one priority.
Many specialist shoes, gloves, helmets, pedals and body protection are all important considerations, as at high downhill speeds accidents can often occur, especially for new fans of the sport. Fitness is also an important consideration for riders, and the mountain bike shops can also help to advise on routines to help build stamina, as well as how to survive and perform repairs if a breakdown should occur a long way from base.
BUSINESSES