Converse Shops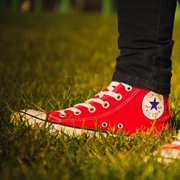 Although now a wholly owned subsidiary of Nike, Converse shoes started in the USA in 1908 and were known as the Converse Rubber Shoe Company. Best known for their famous 'Chucks' named after the famous Chuck Taylor basketball star, the modern designs remain faithful to the original concept. Special editions of Converse shoes have included The Ramones, Sailor Jerry and the amazing 'Weapon' series that received constant design tweaks in the early 2000s.
Still featuring high grip rubber soles and an extraordinary choice of uppers, Converse shoes are some of the most highly desired leisure shoes on the market. Available in kids, men's and women's styles, they come in high top, slim, light and limited edition versions – these Converse shoes feature superb designs that have been inspired by people, rock bands like The Who, or just motivated by pop art culture.
Other Converse shoes include the famous All Star and Ox series with extra features like double tongues, or sequins. Superbly comfortable, stylish and excellent value for money, whichever Converse shoes a person picks, they are making a positive fashion statement - with such a huge choice of colours, there's something to match any outfit.
RECOMMENDED CATEGORIES

Browse our selection of sport shoe retailers that offer literally thousands of different brands and styles.
Visit the Sport Shoes category >>