Billabong Shops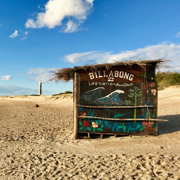 Founded in 1973 on the Gold Coast in Australia, Billabong is a sportswear manufacturer that makes clothing for surf, skate and snow. Its headquarters are still based in Queensland although the company has grown dramatically since its creation.
Billabong produces many goods under its own brand name, although the company has acquired several other brands over the years including Element, Kustom, Sector 9 and Von Zipper. This has enabled the company to move into new markets and to expand its portfolio of products to include eyewear, wetsuits and surfboards.
Billabong products are sold in over 100 countries - and despite having to deal with financial difficulties during 2009/2010, the brand remains as popular as ever. In the UK you'll struggle to find a surf shop that doesn't stock Billabong products. There are however, plenty of online Billabong shops too - some of the best of which we've profiled below.
RECOMMENDED CATEGORIES

Looking for clothing for your chosen sport? Check out our selection of specialist sports clothing shops here.
Visit the Sportswear & Teamwear category >>

Devon and Cornwall has the greatest concentration of surfing shops, but our selection includes retailers from all over the country.
Visit the Surfing category >>