Sports Trophy Shops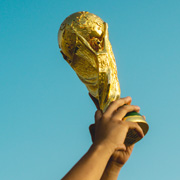 There cannot be a sports club or school in the country that doesn't need a regular supply of sports trophies and awards for all their various competitions. Whether it's a trophy for a 25 yard running race for 3 year olds, or a cup for winning the mixed doubles in the regional tennis tournament, a local trophy shop will be able to supply all their needs.
Whilst many UK-based sports trophy shops are now based online, a local engraver is still required to add extra names or teams to an annual award that is often being presented to a new recipient. With a massive choice of trophy designs and sizes available for every conceivable sport or event, a good traditional 'bricks and mortar' sports trophy shop in a central location can be found in most cities and towns throughout the UK.
Trophies are no longer a plain boring cup – trophy shops can offer modern glass, metal or plastic awards with models of golfers, footballers, rugby players or basketball stars as the centre piece. Other sports trophies can include a miniature golf, squash or tennis ball set in crystal, and most sports trophy shops will be able to offer their customers some terrific selections to represent every conceivable sport.
BUSINESSES