Head Shops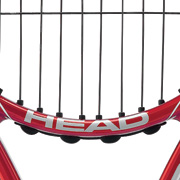 Head is a premium branded sports maufacturer, and their equipment is used in a multitude of sports divided into four separate and very clear categories – racket sports, winter sports, diving and licensed products. The Head name is well known in the world of tennis, badminton, squash and racquetball, selling not only some superb equipment but also balls and footwear. Much of the Head sports equipment is endorsed by leading athletes especially in tennis and squash.
Some tennis and racquetball balls are sold under the Penn brand name, Tyrolia is used for ski bindings, and Mares/Dacor is the Head brand name for all of their diving gear. Winter sports are probably where Head sponsored athletes have the best success, with many skiing events producing clear winners. Head sports equipment is at the forefront of technology with a massive budget being spent on new designs and research into new materials, all with the aim of giving competitors using their equipment, the edge over their rivals. Head shoes are recognised as some of the best on the market, and are a popular choice for professionals and amateurs.
The Head brand name is also licensed for use on many other products including bicycles, footwear, golf equipment, clothing and even toiletries. With a worldwide Head shop network of over 30,000 outlets and sales in over 80 countries, Head sports equipment is some of the most popular and best you can buy.
RECOMMENDED CATEGORIES

Whether you're looking for badminton clothing, rackets or other accessories, you should be able to find them all at these specialist shops.
Visit the Badminton category >>

Skis, bindings, ski boots and ski poles are just some of the products stocked by these specialist ski shops.
Visit the Skiing category >>

These snowboarding shops offer big choices of equipment and clothing, often made by some of the big-name sports brands.
Visit the Snowboarding category >>

Browse our selection of sport shoe retailers that offer literally thousands of different brands and styles.
Visit the Sport Shoes category >>

There are plenty of squash shops supplying everything needed for this physical and competitive sport. See lots here.
Visit the Squash category >>

There are hundreds of swimming shops to cater for this mass market - and we have them neatly categorised here.
Visit the Swimming category >>

Tennis shops are always their busiest in the UK when Wimbledon takes place - but these shops are busy all year round.
Visit the Tennis category >>