Raleigh Shops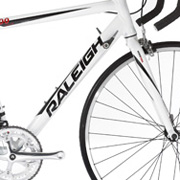 With one of the longest histories of sports brands, Raleigh Bicycles take their name from the street in Nottingham where they started being made in 1887. The 1970ís were a big turning point for Raleigh shops in both the UK and the USA when in 1970 Raleigh launched the iconic Chopper onto an unsuspecting cycling fraternity who had never seen anything like it. It was an instant success for the Raleigh shops, and original versions in good condition can command many hundreds of pounds at auctions.
Only a few years later in 1967 the Raleigh Grifter was born. Almost as successful as the Chopper, it heralded in a new era of BMX cycles which are so important to the sales in modern Raleigh shops and dealers. Known for their excellent value and reliability, Raleigh shops are still selling huge numbers of cycles made by the company with over 100 models to choose from including many in young childrenís sizes.
Raleigh also has great history of sponsoring sports cycling teams, and Raleigh shops are geared up for increased sales as the latest Team Raleigh cycle racing squad hits the roads. As a team thatís anxious to repeat the Tour de France victory in 1980, Raleigh will continue to be a dominant player in the cycling world.
RECOMMENDED CATEGORIES

Cycling is a highly popular sport - and this is great news for consumers who get to choose from many cycling shops - including these.
Visit the Cycling category >>