Badminton Shops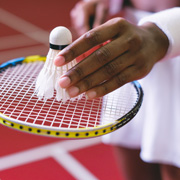 Badminton shops will often also sell clothing and equipment for other racket sports such as tennis, squash or racketball, and whether customers consider buying from a traditional sports shop or one of the many online retailers, thereís a great choice of badminton shops spread all over the UK. Badminton players require high levels of stamina and fitness to play well, and it has been included as an Olympic sport since 1992.
The badminton shops sell great selections of rackets by all the leading brands which include Yonex, Head and Pro Kennex, although there are plenty more. Grips, strings and racket composition can all affect a playerís performance, and many will try several before deciding on the correct one for them. These badminton shops are often associated with local badminton clubs which can offer coaching and competitions for all levels of competitors.
Mainly played indoors because winds affect the shuttlecock performance, badminton is a favourite kidís beach sport in the summer months when outdoor exercise and fun rather than high skill are the main pre-requisites. The correct badminton shoes are important for the high grip and fast direction changes demanded by this sport. Badminton shops usually sell a wide range of appropriate footwear which is also lightweight and incorporates all the latest shock absorption techniques.
BUSINESSES