Sports Coaches & Instructors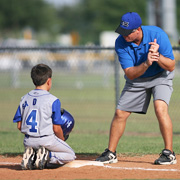 With a seemingly endless list of sports to try or take up, itís pretty certain that most of them will require the player or user to undertake some form of training or instruction. Some of this may be a simple demonstration of how a piece of equipment works, although usually longer periods of structured lessons are required for someone to become proficient in their chosen sport.
Tennis coaches, dance teachers, fencing instructors, keep fit gurus or golf professionals all form part of this group of teachers known as sports instructors. Most sports require the instructors to undertake regular assessments of their coaching ability, as well as their knowledge of the latest regulations or equipment. Naturally sports coaches make a charge for their work, although many of them also work in a voluntary capacity, helping young children or disabled people.
Often a sports coach will have been involved in the chosen sport all of their life, and will have unrivalled knowledge of the rules, as well as associations of where to get extra advice if needed. There are thousands of sports instructors all over the UK, so wherever you live, and whatever sports you choose, a sports coach is not far away.
BROWSE OUR SPORTS COACHES & INSTRUCTORS VIA SPECIALISM

Find a PADI qualified scuba diving instructor.
See all scuba diving instructors sport shops >>