Onitsuka Tiger Shops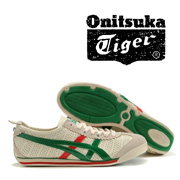 Originating in Japan in 1949, many of Onitsuka Tiger shoes are still hand made in that country. After merging with two other sports brands in 1977, the company was renamed Asics, with the Onitsuka Tiger brand being retained to manufacture shoes that are largely retro versions of some iconic footwear designs from past eras.
With basketball as an inspiration for many of the designs, the attention to detail and finish of Onitsuka Tiger shoes is second to none. Well known and popular because of their exciting colours and patterns, the trainers are definitely some of the best footwear for the ultimate street cred. Available in the UK through specialist Onitsuka Tiger shops, both online and traditional, the ranges include, Cat, Coolidge LO, Ultimate 81, Fabre 74 and many others, some of which are introduced on a limited edition basis.
The Mexico 66 collection is probably the most well known classic Onitsuka Tiger trainer design and sells in huge numbers every year. Their stand alone stores in major capital cities throughout the world offer more than the Onitsuka Tiger brand – their clothing selections offer a complete lifestyle and includes T shirts and track tops.
RECOMMENDED CATEGORIES

Browse our selection of sport shoe retailers that offer literally thousands of different brands and styles.
Visit the Sport Shoes category >>