Sunwise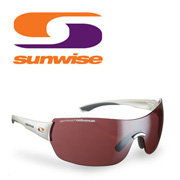 As a brand that was created by Oxford-based Trans-Global Sports, Sunwise has the aim of producing lightweight, stylish and effective performance eyewear. Following favourable reviews from many quarters - including being awarded the Best of British Export by UK Trade and Investment - Sunwise successfully bridges the gap between optical excellence and style.
With stockists now all over the world, there are plenty of shops throughout the UK where you can find your favourite Sunwise sunglasses. Celebrity endorsements have added to the appeal of this brand: Volleyball player Denise Johns and triathelete Nick Dunn are just two professional sportspeople that can regularly be seen sporting Sunwise products.
Whilst there is no denying that Sunwise sunglasses look the part, the company is far more than just a fashion brand. All of their products are ideally suited to numerous different sports - and various add-on accessories ensure that they can be tailored to specific conditions.
RECOMMENDED CATEGORIES

Looking for clothing for your chosen sport? Check out our selection of specialist sports clothing shops here.
Visit the Sportswear & Teamwear category >>