Dance Shops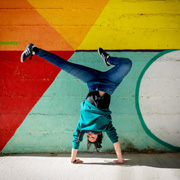 With hundreds of different dance genres originating from all over the world, itís easy to see why there are so many dance shops catering for music, clothing and routines. Dancers not only want to perform at their best, but also to look at their best. BBCís Strictly Come Dancing has done wonders for encouraging people all over the UK to re-awaken a hidden interest in dance, and have a go! The beauty of dance is that anyone of any age can jig, bop, or do whatever movements they want to almost any music.
There are hundreds on online and traditional shops selling dance equipment, ranging from leotards, tops, skirts and tights for the ladies, to trousers, shirts, belts and shoes for the men. This dancewear isnít just restricted to more formal and traditional types of dancing – hip-hop, street jazz, break dance and boogie all have their own unique style of clothing associated with routines.
Whether youíre a fan of swing, ballroom, latin, folk or traditional jazz dancing, thereís a range of clothing and shoes to suit the style and occasion. Popular brands like Nike are in on the act; especial favourites amongst break dancers in the clubs or on the streets.
BUSINESSES