Saucony Shops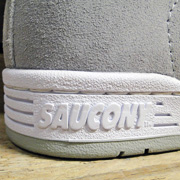 Founded in Pennsylvania way back in 1898, Saucony is a specialist sports company that produces professional-quality running shoes and clothing. The company has been recognised for its innovation many times over the years - including a Vendor of the Year award in 2007 from the Independent Running Retailers Association and several Editors Choice recommendations from Runners World magazine.
On the Saucony website, the company's shoes are categorised into Run, Race and Fitness. Each has their own particular design, weight and style to make them the ideal choice for whatever activity or terrain you're going to be undertaking. Saucony is perhaps best known for their development of the Grid - and later, ProGrid - technology. This system provides extra cushioning and shock absorbtion, thereby offering optimal stability for athletes whilst running.
RECOMMENDED CATEGORIES

These specialist running shops have been set up to supply clothing, accessories and expert advice for runners of all abilities.
Visit the Running category >>

Browse our selection of sport shoe retailers that offer literally thousands of different brands and styles.
Visit the Sport Shoes category >>