West Yorkshire Sports Shops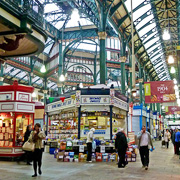 Narrow your results: browse for sport shops in West Yorkshire towns:
Bradford, Huddersfield, Leeds, Wakefield.
Sports Shop UK is a free directory that any UK-based shop is entitled to join. This page lets you view all the West Yorkshire sports shops that we currently hold information about.
Cick here to access more information about how to add your sports business to this page. Registering your West Yorkshire sports shop will not take long.
POPULAR BUSINESSES
78-84 Crossgates Road, Leeds, West Yorkshire, LS15 7NL
0845 485 6431
154 Hyde Park Road, Leeds, LS6 1AG
0113 224 9982
The Core Shopping Centre, Lands Lane, Leeds, West Yorkshire, LS1 6AW
0113 245 0879
47 Kirkgate, Bradford, West Yorkshire, BD1 1PZ
01274749947
5-7 Station Road, Otley, Leeds, West Yorkshire, LS21 3HX
01943 461136
PO Box 802, Bradford, West Yorkshire, BD10 9WX
08432897511
2 Brooks Yard, Market Street, Huddersfield, West Yorkshire, HD1 2EP
01484 422455
201 Station Road, Ossett, WF5 0LB
07787580089
Park Green, Normanton, Wakefield, West Yorkshire, WF6 1AP
01924 667088 or 07546 751695
OTHER BUSINESSES
Blue Moon Sport

109 Wrose Road, Bradford, West Yorkshire, BD2 1PT
01274 792744
Branded Sportswear

444 Aberford Road, Wakefield, West Yorkshire, WF3 4AQ
01924 669658
Cobwood Engravers

5 Morley Lane, Huddersfield, West Yorkshire, HD3 4NR
01484 655998
D & R Sports

290 Keighley Road, Bradford, West Yorkshire, BD9 4LH
01274 480247
Golf Vibe

Realtex House, 2 Leeds Road, Rawdon, Leeds, West Yorkshire, LS19 6AX
0113 250 0191
GTP Cycles

37-39 Westgate End, Wakefield, West Yorkshire, WF2 9RG
01924 566559
Holme Valley Sports Injury Clinic

4 Brewery Drive, Huddersfield, West Yorkshire, HD4 6EN
01484 505035
Hudson Sports

820 Manchester Road, Bradford, West Yorkshire, BD5 8DJ
01274 732072
Kenmar Camping & Leisure

Spring Green Nurseries, Pontefract Road, Wakefield, West Yorkshire, WF4 1LW
01924 864494
Matchpoint

Wensley Avenue, Leeds, West Yorkshire, LS7 3QX
0113 226 4902
O.B.Sports

51 Station Road, Crossgates, Leeds, West Yorkshire, LS15 8DT
0113 260 4030
P.C.Sports

67 High Street, Yeadon, Leeds, West Yorkshire, LS19 7SP
0113 250 7988
Racket Sports

77 Harehills Road, Leeds, West Yorkshire, LS8 5HS
0113 235 0811
Racquet Technic

63 Ingledew Court, Moortown, Leeds, West Yorkshire, LS18 8TP
0113 269 1563
Scott Swimwear

54 Slades Road, Huddersfield, West Yorkshire, HD7 4JR
01484 461660
Sporting Pride

12 Cloth Hall Street, Huddersfield, West Yorkshire, HD1 2EG
01484 421612
Springwood Bowling Club

Springwood Avenue, Hudderesfield, West Yorkshire, HD1 4BH
01484 305659
The Wildcats Superstore

Doncaster Road, Wakefield, West Yorkshire, WF1 1YB
01924 201106
Triangle

1 Long Row, Horsforth, Leeds, West Yorkshire, LS18 5AA
0113 259 0477
Up & Running

7 Cherry Tree Centre, Market Street, Huddersfield, West Yorkshire, HD1 2ET
01484 535393
Up & Running

261 Otley Road, Leeds, West Yorkshire, LS16 5LQ
0113 278 8866
Up & Running

61a Northgate, Wakefield, West Yorkshire, WF1 3BP
01924 200205
Velocity Cycles

70 Acre Street, Huddersfield, West Yorkshire, HD3 3EL
01484 455300
Warrior Cricket Bats

109 Elephant & Castle Yard, Westgate, Wakefield, West Yorkshire, WF1 1YD
0870 8387 164
Wheelspin Cycles

Victoria Mills, Albert Street, Huddersfield, West Yorkshire, HD1 3PR
01484 533338
Woburn Cycles

2 Woburn Way, Normanton, Wakefield, West Yorkshire, WF6 1WE
07964 748838
Wolfwear Sports and Fitness

1046 Manchester Road, Bradford, West Yorkshire, BD5 8NN
01274 730718
Workout World

55 Wade Lane, Leeds, West Yorkshire, LS2 8NJ
0113 242 7499