Huddersfield Sports Shops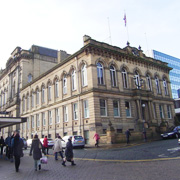 Kingsgate and Piazza are Huddersfield's two largest shopping centres. Although most of the major multiple retailers are all represented there, a good choice of independent Huddersfield sports shops are located all over the town. If you're a cycling enthusiast try out Velocity Cycles on Albert Street or Wheelspin Cycles on Albert Street for a good selection of new and used cycles as well as spare parts.
Up & Running in Market Street probably offer the best selection of running shoes and clothing in Huddersfield, whilst Scott Swimwear in Slades Road are the experts in swimming costumes and accessories. The Holme Valley Sports Injury Clinic in Brewery Drive has plenty of experts on hand to help out with all sorts of training or sports activity injuries. They can also recommend specialists for treating unusual or rare complications.
POPULAR BUSINESSES
2 Brooks Yard, Market Street, Huddersfield, West Yorkshire, HD1 2EP
01484 422455
OTHER BUSINESSES
Cobwood Engravers

5 Morley Lane, Huddersfield, West Yorkshire, HD3 4NR
01484 655998
Holme Valley Sports Injury Clinic

4 Brewery Drive, Huddersfield, West Yorkshire, HD4 6EN
01484 505035
Scott Swimwear

54 Slades Road, Huddersfield, West Yorkshire, HD7 4JR
01484 461660
Sporting Pride

12 Cloth Hall Street, Huddersfield, West Yorkshire, HD1 2EG
01484 421612
Springwood Bowling Club

Springwood Avenue, Hudderesfield, West Yorkshire, HD1 4BH
01484 305659
Up & Running

7 Cherry Tree Centre, Market Street, Huddersfield, West Yorkshire, HD1 2ET
01484 535393
Velocity Cycles

70 Acre Street, Huddersfield, West Yorkshire, HD3 3EL
01484 455300
Wheelspin Cycles

Victoria Mills, Albert Street, Huddersfield, West Yorkshire, HD1 3PR
01484 533338