Bradford Sports Shops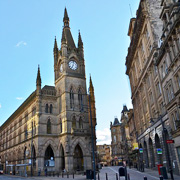 Bradford has strong ties with rugby, with the Bradford Bulls proving to be one of the most successful league teams in the world. Whilst the city is not particularly famous for any other sporting endeavours, sports is much loved in and around Bradford - and the size of the city and its proximity to Birmingham means that you're never too far away from a sporting bargain.
Sports Shoes for example, is a specialist Bradford sports shop that trades from a massive 16,000 square foot premises in Hall Ings. This superstore sells equipment for every major sport imaginable - and stocks all the household name brands such as Nike, Reebok and Hi Tec. Any type of specialist sports shop based in Bradford is able to get a listing in this directory, regardless of whether they specialise in cycling, martial arts or even wholesale.
POPULAR BUSINESSES
47 Kirkgate, Bradford, West Yorkshire, BD1 1PZ
01274749947
PO Box 802, Bradford, West Yorkshire, BD10 9WX
08432897511
OTHER BUSINESSES
Blue Moon Sport

109 Wrose Road, Bradford, West Yorkshire, BD2 1PT
01274 792744
D & R Sports

290 Keighley Road, Bradford, West Yorkshire, BD9 4LH
01274 480247
Hudson Sports

820 Manchester Road, Bradford, West Yorkshire, BD5 8DJ
01274 732072
Wolfwear Sports and Fitness

1046 Manchester Road, Bradford, West Yorkshire, BD5 8NN
01274 730718