South Yorkshire Sports Shops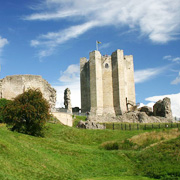 Narrow your results: browse for sport shops in South Yorkshire towns:
Barnsley, Doncaster, Rotherham, Sheffield.
Sports Shop UK is a free directory that any UK-based shop is entitled to join. This page lets you view all the South Yorkshire sports shops that we currently hold information about.
Cick here to access more information about how to add your sports business to this page. Registering your South Yorkshire sports shop will not take long.
POPULAR BUSINESSES
629 Attercliffe Road, Sheffield, South Yorkshire, S9 3RD
0845 862 0276
411 Petre Street, Sheffield, South Yorkshire, S4 8LL
08456 018370
Alpine House Building, 84-90 Infirmary Road, Sheffield, South Yorkshire, S6 3DG
0114 2797 909
Unit 4, Modern House, Summer Lane, Barnsley, South Yorkshire, S70 2NP
01226 387155
721 Abbeydale Road, Sheffield, South Yorkshire, S7 2BE
07791 112404
199 Eyre Street, Sheffield, South Yorkshire, S1 3HU
0114 229 8191
Carmel House, 49-63 Fargate, Sheffield, South Yorkshire, S1 2HD
01142 795914
Vale Road, Parkwood Springs, Sheffield, South Yorkshire, S3 9SJ
0114 2751700
34 Maplebeck Drive, Sheffield, South Yorkshire, S9 1WH
0800 542 0396
11 Beech Avenue, Tickhill, Doncaster, South Yorkshire, DN11 9EN
01302 759212
Masbrough Street, Rotherham, South Yorkshire, S60 1EG
01709 834149
9 Commonside, Walkley, Sheffield, South Yorkshire, S10 1GA
0114 268 3422
Hemingfield Road, Barnsley, South Yorkshire, S73 0LY
01226 610136
OTHER BUSINESSES
Active Barnsley

Shaw Lane, Barnsley, South Yorkshire, S70 6HZ
01226 736644
Barnsley Bicycle Centre

16 Doncaster Road, Barnsley, South Yorkshire, S70 1TH
01226 287770
Blackford Sports

Unit 1, Charter Arcade, Upper May Day Green, Barnsley, South Yorkshire, S70 1SY
01226 289264
DB Sports

267-269 Middlewood Road, Sheffield, S6 4HE
0114 234 1297
Discount Sports

50 Market Hall, Rotherham, South Yorkshire, S65 1EJ
01709 366313
DW Sports Shop

The Peel Centre, Harborough Hill Road, Barnsley, South Yorkshire, S71 1JE
0844 249 5322
Geared Up Cycles

23 Barnsley Road, Barnsley, South Yorkshire, S73 8HT
01226 448218
H D Sports

Rutland Way, Sheffield, S3 8DG
0114 272 8957
Ice & Easy Hockey Shop

Simply Skate Arena, Chesterton Road, Eastwood Trading Estate, Rotherham, South Yorkshire, S65 1SU
01709 830022
J E James Cycles

140 Alderson Road, Sheffield, S2 4UD
0114 292 3111‎
Keegan Sports

1a-1b, Doncaster Road, Barnsley, South Yorkshire, S70 1TH
01226 248700
Keep On Running

710 Attercliffe Road, Sheffield, S9 3RP
0114 244 5335
Knight Sportswear

Gresley House, Ten Pound Walk, Doncaster, South Yorkshire, DN4 9SU
01302 260270
North Swell Surf Shop

10 Hickmott Road, Sheffield, S11 8QF
0114 266 8558
PB Pro Shop

Firth Park Bowl, Sicey Avenue, Sheffield, S5 6NF
07803 727 363
Slide Board Store

87 Division Street, Sheffield, S1 4GE
0114 270 6666
Sportserve

Rockhill Works, 32-36 Garden Street, Sheffield, S1 4BJ
0845 230 3322
Steve Davies Snooker

29 Rands Lane, Doncaster, South Yorkshire, DN3 3DZ
01302 834262
Story Skate Store

The Forum, 127-129 Devonshire Street, Sheffield, S3 7SB
0114 276 2303
twentytwo

9 Commonside, Sheffield, S10
0114 268 3422
Ultimate Terrain

52 Mill Street, Doncaster, South Yorkshire, DN3 3DL
07403 259341
Up & Running

37-39 Church Street, Sheffield, S1 2GL
0114 278 0000
Wath Sports

21-23 High Street, Wath Upon Dearne, Rotherham, South Yorkshire, S63 7QQ
01709 760060
Xblades Sports

The Showroom, Conyers Road, Doncaster, South Yorkshire, DN5 9SU
01302 260270