Rotherham Sports Shops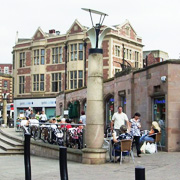 Situated in the centre of South Yorkshire, Rotherham is also surrounded by several other large towns including Sheffield. Whilst there are the usual multiple outlets in the town, Rotherham sports shops also include some terrific independent retailers that can offer specialist advice, great service and competitive prices.
The Real Sports Store in Masbrough Street is one example, with a great selection of equipment and accessories for a number of popular sports. Other Rotherham sports shops also include Discount Sports and Wath Sports, all of which have their own individual style.
POPULAR BUSINESSES
Masbrough Street, Rotherham, South Yorkshire, S60 1EG
01709 834149
OTHER BUSINESSES
Discount Sports

50 Market Hall, Rotherham, South Yorkshire, S65 1EJ
01709 366313
Ice & Easy Hockey Shop

Simply Skate Arena, Chesterton Road, Eastwood Trading Estate, Rotherham, South Yorkshire, S65 1SU
01709 830022
Wath Sports

21-23 High Street, Wath Upon Dearne, Rotherham, South Yorkshire, S63 7QQ
01709 760060