Barnsley Sports Shops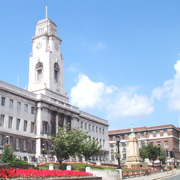 Shopping in Barnsley, South Yorkshire has been transformed with a succession of re-built major shopping centres. Whilst all the important multiple retailers can be found here, the town is alive with a great choice of independent retailers. Sports fans have a good selection of general sports shops like Blackford Sports in Charter Arcade or Keegan Sports in Doncaster Road.
These independent shops survive by offering their customers terrific service, excellent prices and a broad range of sports equipment, clothing and footwear. Cyclists head straight for Barnsley Bicycle Centre in Doncaster Road or Geared Up Cycles in Barnsley Road for a selection of new cycles as well as a range of important accessories like tyres, tubes, pumps and lights. For sports training try Active Barnsley in Shaw Lane. Their coaches can train athletes and sports players in most disciplines.
POPULAR BUSINESSES
Unit 4, Modern House, Summer Lane, Barnsley, South Yorkshire, S70 2NP
01226 387155
Hemingfield Road, Barnsley, South Yorkshire, S73 0LY
01226 610136
OTHER BUSINESSES
Active Barnsley

Shaw Lane, Barnsley, South Yorkshire, S70 6HZ
01226 736644
Barnsley Bicycle Centre

16 Doncaster Road, Barnsley, South Yorkshire, S70 1TH
01226 287770
Blackford Sports

Unit 1, Charter Arcade, Upper May Day Green, Barnsley, South Yorkshire, S70 1SY
01226 289264
DW Sports Shop

The Peel Centre, Harborough Hill Road, Barnsley, South Yorkshire, S71 1JE
0844 249 5322
Geared Up Cycles

23 Barnsley Road, Barnsley, South Yorkshire, S73 8HT
01226 448218
Keegan Sports

1a-1b, Doncaster Road, Barnsley, South Yorkshire, S70 1TH
01226 248700