Cheshire Sports Shops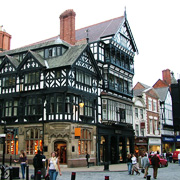 Narrow your results: browse for sport shops in Cheshire towns:
Chester, Knutsford, Macclesfield, Stockport.
Judging by the number of Cheshire sports shops, residents in the county must be super keen on a great selection of active pursuits. The love of football runs through the veins in this region of course, with several Premiership football clubs in easy reach. Chester is one of the county's major towns, and here you can find Coolrider Action Sports, Chester Sports and Football Boutique as well as K&S Bowls.
Cheshire independent retailer Any Tackle Sports in Stockport sells a great range of equipment for many sports including boxing, swimming, fishing and football. Armadillo Sports and Sport Freakz are both online sports shops based in Macclesfield and Stockport respectively. Try SK Darts or Zsig Sports in Stockport for lots of specialist equipment. Adding any Cheshire sports shop to this directory is free and easy.
POPULAR BUSINESSES
286 Gorton Road, Reddish, Stockport, Cheshire, SK5 6RN
0161 432 7431
Sunrise House, Hulley Road, Macclesfield, Cheshire, SK10 2LP
01625 626223
Unit 3, Wolfe Close, Parkgate Industrial Estate, Knutsford, Cheshire, WA16 8DX
01565 650269
33 Regent Street, Knutsford, Cheshire, WA16 6GR
01565 652700
Unit 21, Newgate, Chester, Cheshire, CH1 1ER
01244343931
177 Bramhall Lane, Davenport, Stockport, Cheshire, SK2 6JA
0845 638 0689
22, Alberta Street, Stockport, Cheshire, SK1 3DE
0161 612 0164
12 Cledwen Road, Broughton, Chester, Cheshire, CH4 0TH
07793 212127
PO Box 176, Hazel Grove, Stockport, Cheshire, SK7 9AY
OTHER BUSINESSES
Brantz Rally Meters

34 Union Road, Macclesfield, Cheshire, SK11 7BN
01625 669366
Cheerworld

8a, Pool Street Industrial Estate, Macclesfield, Cheshire, SK11 7NX
0161 439 0796
Chester Sports

5 Frodsham Square, Chester, Cheshire, CH1 3JS
01244 638734
Coolrider Action Sports

18 Iver Road, Upton, Chester, Cheshire, CH2 1RL
01244 373089
DW Sports Shop

The Silkworks, Lower Exchange, Macclesfield, Cheshire, SK11 6JD
0844 2495313
Edgeley Sports & Fishing

33-35 Castle Street, Stockport, Cheshire, SK3 9AT
0161 480 2511
Flowskate

264 Park Lane, Macclesfield, Cheshire, SK11 8AA
07772 448653
Football Bootique

7 Rufus Court, Chester, Cheshire, CH1 2JW
01244 323007
Hoopstuff

17 Mersey Square, Stockport, Cheshire, SK1 1NU
0870 443 4233
K&S Bowls

2a School Street, Chester, Cheshire, CH2 3BR
01244 345172
Knockout Trophies

12 Buxton Road, Stockport, Cheshire, SK2 6NU
0161 477 5335
Lab Sport

10-12 Paddock Row, Grosvenor Precinct, Chester, Cheshire, CH1 1ED
01244 348490
Morland Adventure

42 Millers Meadow, Macclesfield, Cheshire, SK10 5UE
01625 573615
Romiley Raquets & Sports

20 The Precinct, Romilry, Stockport, Cheshire, SK6 4EA
0161 494 8474
SK Darts

14 Buxton Road, Stockport, Cheshire, SK2 6NU
0161 429 9577
Tri-Active

3 Rufus Court, Chester, Cheshire, CH1 2JW
01244 313777
Zsig Sports

Unit 7, Chadkirk Ind.Est., Vale Road, Romiley, Stockport, Cheshire, SK6 3NE
0161 484 5000