Macclesfield Sports Shops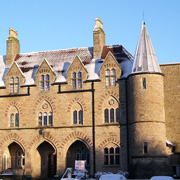 Ben Ainslie the gold winning Olympic yachtsman was born in Macclesfield, as was Peter Crouch one of Englandís top footballers. Sometimes overshadowed by other larger Cheshire towns like Chester, Knutsford and Stockport, Macclesfield still has its fair share of sports shops, as well as plenty of golf, tennis and fitness clubs.
Armadillo Sports are based in the town – they manufacture and sell various ranges of sports body protection kit. Other Macclesfield sports shops include Flowskate in Park Lane for anything to do with skateboards, and Morland Adventure in Millers Meadow for all types of walking gear. This directory is free for businesses to list their sports shops.
POPULAR BUSINESSES
Sunrise House, Hulley Road, Macclesfield, Cheshire, SK10 2LP
01625 626223
OTHER BUSINESSES
Brantz Rally Meters

34 Union Road, Macclesfield, Cheshire, SK11 7BN
01625 669366
Cheerworld

8a, Pool Street Industrial Estate, Macclesfield, Cheshire, SK11 7NX
0161 439 0796
DW Sports Shop

The Silkworks, Lower Exchange, Macclesfield, Cheshire, SK11 6JD
0844 2495313
Flowskate

264 Park Lane, Macclesfield, Cheshire, SK11 8AA
07772 448653
Morland Adventure

42 Millers Meadow, Macclesfield, Cheshire, SK10 5UE
01625 573615