Stockport Sports Shops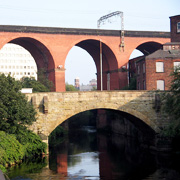 With two large modern shopping centres in the town, Stockport in Cheshire also has its fair share of independent sports shops. Whilst the Merseyway and Court Shopping Centres are homes to most of the multiple sports retailers, plenty of individual and specialist Stockport sports shops are scattered all over the town and surrounding areas.
An online sports shop known as Sportfreakz has its base in the town, and if you need a sports trophy for club or school events, Knockout Trophies will almost certainly have something suitable. If you enjoy darts, fishing, running, football or any one of dozens of other sports, the Stockport sports shops shown below will be able to supply all the right equipment and clothing.
POPULAR BUSINESSES
177 Bramhall Lane, Davenport, Stockport, Cheshire, SK2 6JA
0845 638 0689
22, Alberta Street, Stockport, Cheshire, SK1 3DE
0161 612 0164
PO Box 176, Hazel Grove, Stockport, Cheshire, SK7 9AY
OTHER BUSINESSES
Edgeley Sports & Fishing

33-35 Castle Street, Stockport, Cheshire, SK3 9AT
0161 480 2511
Hoopstuff

17 Mersey Square, Stockport, Cheshire, SK1 1NU
0870 443 4233
Knockout Trophies

12 Buxton Road, Stockport, Cheshire, SK2 6NU
0161 477 5335
Romiley Raquets & Sports

20 The Precinct, Romilry, Stockport, Cheshire, SK6 4EA
0161 494 8474
SK Darts

14 Buxton Road, Stockport, Cheshire, SK2 6NU
0161 429 9577
Zsig Sports

Unit 7, Chadkirk Ind.Est., Vale Road, Romiley, Stockport, Cheshire, SK6 3NE
0161 484 5000