West Sussex Sports Shops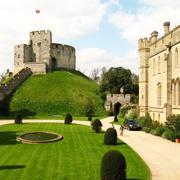 Narrow your results: browse for sport shops in West Sussex towns:
Chichester, Horsham, Worthing.
Beautiful West Sussex borders the English Channel for most of its southern edge, and has several important towns located within the county. Horsham, Chichester, Littlehampton and Shoreham are all home to a series of West Sussex sports shops that help to keep the counties sportspeople in top condition. If you need weightlifting equipment, a new squash racket or a replacement pair of running shoes, a sports shop in West Sussex will have exactly what you need.
David O Jones has been trading in Littlehampton since the 1940s, and supplies its customers with almost any equipment or clothing for any sporting activity. Sports fans in Haywards Heath are lucky to have SA Sportsworld on their doorstep - they can also embroid or print team logos on their customerís choice of sports clothing. UK Kayaking and UK Table Tennis are both located in Horsham and are popular West Sussex venues for buying kayaking and table tennis equipment.
FEATURED BUSINESSES

Online and shop retailer of hockey, cricket, netball, rugby equipment and teamwear.
Read more about SA Sportsworld >>
POPULAR BUSINESSES
4 Warrenside Farm, Elmhurst Lane, Slinfold, Horsham, West Sussex, RH13 0RJ
01403 785210
7A, Becket Gardens, Worthing, West Sussex, BN13 2BW
07825 314211
51 East Street, Chichester, West Sussex, PO19 1JG
01243 539554
7-9 High Street, Littlehampton, West Sussex, BN17 5EG
01903 713146
Unit 1, Beaver Trade Park, Quarry Lane, Chichester, West Sussex, PO19 8NY
01243 538800
Unit 1 Pear Tree Business Centre, Grouse Road, Colgate, Horsham, West Sussex, RH13 6HT
01293 852288
Hills Road Sports and Tennis Centre, Purbeck Road, Cambridge, CB2 8PF
01223 241956
OTHER BUSINESSES
Alleyoops Skate & Leisure

Unit 2, Marine Parade, Worthing, West Sussex, BN11 3PN
01903 216194
AM Trophies

119 Westcourt Road, Worthing, West Sussex, BN14 7DP
01903 212657
Bedford Sports

82 Lambs Farm Road, Horsham, West Sussex, RH12 4JH
01403 267805
Broadwater Sports

37 Broadwater Street West, Worthing, West Sussex, BN14 9BY
01903 252053
Field & Trek

22 East Street, Chichester, West Sussex,
0844 2459266
Game Set & Match

Unit 1 Beaver Trade Park, Quarry Lane, Chichester, West Sussex, PO19 8NY
01243 538800
Hargreaves

North Street, Chichester, West Sussex, PO19 1LB
0870 8387143
Herbert Sports

46-48 The Hornet, Chichester, West Sussex, PO19 7JG
01243 698698
Hobo Boardriders

39 Warwick Street, Worthing, West Sussex, BN11 3DQ
01903 232335
Meritz

45 North Street, Chichester, West Sussex, PO19 8NY
01243 539909
Michael's Cycles

21 South Farm Road, Worthing, West Sussex, BN14 7AD
01903 232844
Quest Adventure

5 Ardsheal Road, Worthing, West Sussex, BN14 7RN
01903 573700
Run

14a Station Parade, Tarring Road, Worthing, West Sussex, BN11 4SS
01903 248242
Splash Out

69 Sea Lane, Worthing, West Sussex, BN12 4QD
01903 506677
UK Kayaking

Southwater Country Park, Cripplegate Lane, Southwater, Horsham, West Sussex, RH13 9UN
01403 332341
UK Table Tennis

Worthing Road, West Grinstead, Horsham, West Sussex, RH13 8LG
0845 2600780
Up & Running

20 Queen Street, Horsham, West Sussex, RH13 5AF
01403 2682688
Worthing Gun Shop

80 Broadwater Street West, Worthing, West Sussex, BN14 9DE
01903 237378