Worthing Sports Shops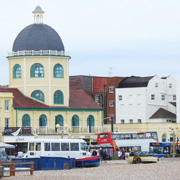 With a town centre almost situated on the seafront, Worthing in West Sussex attracts shoppers from all over the region. The weekly market in Montague Street is a popular event, and not far from here is the quirkily named Alleyoops Skate and Leisure shop; this is popular with skateboarders looking for new equipment and clothing. A retailer named Run in Station Parade is a Worthing sports shop that can help all the areas runners with suitable shoes and clothing.
If cycling is your thing, then Michaelís Cycles in South Farm Road can not only sell you a bike, but repair it as well. Whether you love tennis, cricket, gymnastics, netball or sailing, thereís an independent Worthing sports shop that can help you with the right clothing and equipment.
POPULAR BUSINESSES
7A, Becket Gardens, Worthing, West Sussex, BN13 2BW
07825 314211
OTHER BUSINESSES
Alleyoops Skate & Leisure

Unit 2, Marine Parade, Worthing, West Sussex, BN11 3PN
01903 216194
AM Trophies

119 Westcourt Road, Worthing, West Sussex, BN14 7DP
01903 212657
Broadwater Sports

37 Broadwater Street West, Worthing, West Sussex, BN14 9BY
01903 252053
Hobo Boardriders

39 Warwick Street, Worthing, West Sussex, BN11 3DQ
01903 232335
Michael's Cycles

21 South Farm Road, Worthing, West Sussex, BN14 7AD
01903 232844
Quest Adventure

5 Ardsheal Road, Worthing, West Sussex, BN14 7RN
01903 573700
Run

14a Station Parade, Tarring Road, Worthing, West Sussex, BN11 4SS
01903 248242
Splash Out

69 Sea Lane, Worthing, West Sussex, BN12 4QD
01903 506677
Worthing Gun Shop

80 Broadwater Street West, Worthing, West Sussex, BN14 9DE
01903 237378