Chichester Sports Shops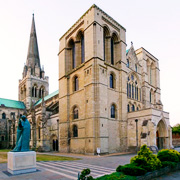 With popular sports including hockey, cricket, rugby and American Football, Chicester also has a centrally-located and first-rate leisure centre called Westgate which offers residents the chance to get involved in squash, swimming and fitness classes.
Chichester has a historic city centre and this makes it a joy to shop in. It also has a generous number of independent sports shops, all specialising in different active pursuits. Herbert Sports for example, is a Chichester sports shop that sells equipment for virtually all traditional sports - including running, swimming and racket sports. Shore Watersports on the other hand, specialises in water-based clothing and equipment and sells many famous fashion brands such as Roxy, Quicksilver and Animal.
POPULAR BUSINESSES
51 East Street, Chichester, West Sussex, PO19 1JG
01243 539554
Unit 1, Beaver Trade Park, Quarry Lane, Chichester, West Sussex, PO19 8NY
01243 538800
OTHER BUSINESSES
Field & Trek

22 East Street, Chichester, West Sussex,
0844 2459266
Game Set & Match

Unit 1 Beaver Trade Park, Quarry Lane, Chichester, West Sussex, PO19 8NY
01243 538800
Hargreaves

North Street, Chichester, West Sussex, PO19 1LB
0870 8387143
Herbert Sports

46-48 The Hornet, Chichester, West Sussex, PO19 7JG
01243 698698
Meritz

45 North Street, Chichester, West Sussex, PO19 8NY
01243 539909