Merseyside Sports Shops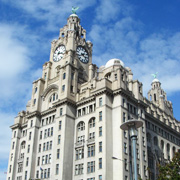 Narrow your results: browse for sport shops in Merseyside towns:
Liverpool.
With a proliferation of top football clubs in the area, itís no wonder that Merseyside is a popular spot for fans to buy all the right gear to support their favourite teams. Plenty of other sports are played in the area however, both on a professional and amateur basis. Merseyside sports shops can offer their customers the right equipment and clothing for almost any sports they play.
Some shops like Mersey Sports or Mizzyís Sports in Liverpool cater for a wide range of activities like cricket, hockey, badminton or tennis. Foot Patrol, also in Liverpool sell a great selection of shoes for running, football, rugby, cycling or dozens of other sports. Itís a fine line between functional sportswear and clothes with a sporting theme. Several Merseyside sports shops manage this difference very successfully, and sports fanatics can always buy the coolest stuff from somewhere like Crocodiles Leisure Boutique in Walton.
POPULAR BUSINESSES
Mill Lane, Rainford, St Helens, WA11 8LN
01744885294
58-60 Church Street, Liverpool, Merseyside, L1 3AY
0151 707 0323
2 Richmond House, Parkvale Avenue, Prenton, CH43 3HG
08453381755
Liver Estate, Long Lane, Aintree, Liverpool, L9 7ES
0151 5256996
OTHER BUSINESSES
Crazee Sports

140 Charlotte Way, St.Johns Precinct, Liverpool, Merseyside, L1 1NA
0151 709 3870
Crocodiles Leisure Boutique

59 County Road, Walton, Liverpool, Merseyside, L4 3QD
0151 287 7287
Define

Houghton Way, St.Johns Precinct, Liverpool, Merseyside, L1 1LW
0151 709 0322
Fit4Life

117-119 Breck Road, Anfield, Liverpool, Merseyside, L4 2QX
0151 203 7045
Foot Patrol

135 Market Square, St.Johns Precinct, Liverpool, Merseyside, L1 1LZ
0151 707 8188
Mersey Sports

589 Prescot Road, Old Swan, Liverpool, Merseyside, L13 5UX
0151 220 7222
Mizzy's Sports

Unit 7-8, Broadway Market, Broad Lane, Norris Green, Liverpool, Merseyside, L11 1JB
0151 226 8453
Natterjack Running Centre

555 Smithdown Road, Liverpool, Merseyside, L15 5AF
0151 735 1441
Seraph Sports

17 Norseman Close, Liverpool, Merseyside, L12 5LS
01704 579518
Splash Swimwear

24 North Street, Liverpool, Merseyside, L2 9RP
0151 227 2786
Spoilsports

101-102 Retail Market, St.Johns Precinct, Liverpool, Merseyside, L1 1NP
0151 709 3670