Liverpool Sports Shops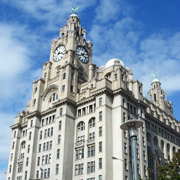 It would be hard to have a profile about Liverpool on a sports directory like this without mentioning Liverpool FC and Everton. As two of the most famous football clubs in the world, they have been hugely influential in putting Liverpool firmly on the sporting map.
The city has far more to offer the keen sportsman or sports spectator than just football though – and this is proved by the range of breadth of Liverpool sports shops that offer all kinds of specialist sporting equipment. With high quality venues in and around the city for football, cricket, horse-racing, athletics and golf to name just a few, it's no wonder why Liverpool sports shops continue to thrive in such abundance.
POPULAR BUSINESSES
58-60 Church Street, Liverpool, Merseyside, L1 3AY
0151 707 0323
Liver Estate, Long Lane, Aintree, Liverpool, L9 7ES
0151 5256996
OTHER BUSINESSES
Crazee Sports

140 Charlotte Way, St.Johns Precinct, Liverpool, Merseyside, L1 1NA
0151 709 3870
Crocodiles Leisure Boutique

59 County Road, Walton, Liverpool, Merseyside, L4 3QD
0151 287 7287
Define

Houghton Way, St.Johns Precinct, Liverpool, Merseyside, L1 1LW
0151 709 0322
Fit4Life

117-119 Breck Road, Anfield, Liverpool, Merseyside, L4 2QX
0151 203 7045
Foot Patrol

135 Market Square, St.Johns Precinct, Liverpool, Merseyside, L1 1LZ
0151 707 8188
Mersey Sports

589 Prescot Road, Old Swan, Liverpool, Merseyside, L13 5UX
0151 220 7222
Mizzy's Sports

Unit 7-8, Broadway Market, Broad Lane, Norris Green, Liverpool, Merseyside, L11 1JB
0151 226 8453
Natterjack Running Centre

555 Smithdown Road, Liverpool, Merseyside, L15 5AF
0151 735 1441
Seraph Sports

17 Norseman Close, Liverpool, Merseyside, L12 5LS
01704 579518
Splash Swimwear

24 North Street, Liverpool, Merseyside, L2 9RP
0151 227 2786
Spoilsports

101-102 Retail Market, St.Johns Precinct, Liverpool, Merseyside, L1 1NP
0151 709 3670