Devon Sports Shops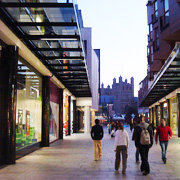 Narrow your results: browse for sport shops in Devon towns:
Exeter, Paignton, Plymouth.
From Torquay, Plymouth and Exeter in the South, to Barnstaple and Bideford in the North, Devon is the third largest of all the English counties. All of these major population areas are well blessed with a variety of sports shops that can offer their customers clothing and equipment for almost any sporting activity. Good examples include Fly Fishing Tackle in Crediton for all your angling requirements, or AS Watersports in Exeter for a great choice of canoes and kayaks.
The Sports Centre in South Molton and Apex Sports in Barnstaple are good all round sports shops, whilst Ironbridge Runner in Exeter's Bartholomew Street is the city's destination store for running shoes and the latest technical clothing. Whether you play football, tennis, hockey or cricket, or love sailing, mountaineering or surfing, there's a great selection of Devon sports shops that can offer great equipment at a wide choice of prices.
POPULAR BUSINESSES
Darts Farm Shopping Village, Topsham, Exeter, Devon, EX3 0HQ
01392 878313
141-143 Winner Street, Paignton, Devon, TQ3 3DQ
01803 552290
Unit B, Parliament Square , Parliament Street , Crediton, Devon, EX17 2AW
01363 777783
No. 7 Coxleigh Barton Units, Coxleigh Barton, Barnstaple, EX31 4JL
01271 850278
1 West Street, Exeter, Devon, EX1 1BB
01392 211600
72 Ridgeway, Plympton, Plymouth, Devon, PL7 2AL
0844 870 9714
The Green, Whimple, Exeter, Devon, EX5 2TY
01404 823053
OTHER BUSINESSES
720 Snowboard Shop

1 Citadel Ope, Plymouth, Devon, PL1 2JY
01752 600899
Apex Sports

53 High Street, Barnstaple, Devon, EX31 1BZ
01271 343143
AS Watersports

Haven Road, Exeter, Devon, EX2 8GX
01392 219600
Colin Lewis Cycles

17 Dartmouth Road, Paignton, Devon, TQ4 5AD
01803 553095
Devon Darts

1e Old Torquay Road, Paignton, Devon, TQ3 2QY
01803 553222
Dialled In Bikes

249 Torquay Road, Paignton, Devon, TQ3 2HL
01803 222364
Dingo Boards

South Quay, Paignton, Devon, TQ4 6DT
07866 483210
Exsports

41 Cornwall Street, Plymouth, Devon, PL1 1NS
01752 260208
ExSports

19 Victoria Street, Paignton, Devon, TQ4 5DD
08703 339609
First Sport

52 New George Street, Plymouth, Devon, PL1 1RR
01752 253807
Frank Elford Sports

27 Mayflower Street, Plymouth, Devon, PL1 1QJ
01752 659817
Harbour Sports

93-94 Fore Street, Exeter, Devon, EX4 3HY
01392 410800
Harbour Sports

7 The Parade, Plymouth, Devon, PL1 2JL
01752 660604
Hoppys

10 Mannamead Road, Plymouth, Devon, PL4 7AA
01752 250950
Ironbridge Runner

15 Bartholomew Street East, Exeter, Devon, EX4 3BG
01392 436383
John Bridger Marine

The Boat Shed, Michael Browning Way, Exeter, Devon, EX2 8DD
01392 250970
Kick It Sports

2A North Street, Heavitree, Exeter, Devon, EX1 2RH
01392 216767
Oldway Tennis Centre

Oldway Mansion, Paignton, Devon, TQ3 2TS
07770 785670
Phil's Soccer Scene

Unit 32, Market Stalls, Plymouth, Devon, PL1 1PR
01752 265903
Saltash Sports

34 Fore Street, Saltash, Plymouth, Devon, PL12 6JL
01752 848730
The Boarding House

132 Fore Street, Exeter, Devon, EX4 3AN
01392 217774
The Sports Centre

130 East Street, South Molton, Devon, EX36 3BU
01769 572080
Tony Pryce Sports

24 Guildhall Shopping Centre, Exeter, Devon, EX4 3HW
01392 434774
Tony Pryce Sports

25 Cornwall Street, Plymouth, Devon, PL1 1NW
01752 601010
Whose Sport Footwear

59 Cornwall Street, Plymouth, Devon, PL1 1NS
01752 600819