Plymouth Sports Shops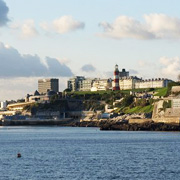 Often described as the 'Capital of the West-Country', Plymouth's city centre undoubedly manages to draw in shoppers from near and far – and a healthy selection of these shops happen to be specialist Plymouth sports shops that cater for all the keen sporting men and women within the region.
With a popular football team, Plymouth Argyle, and a successful rugby union club, Plymouth Albion, the city always has lots of sporting activity going on. The Pavilions plays host to the Plymouth Raiders basketball club and there are two Amercian football teams as well as a speedway team! The centre of the city is largely pedestrianised, making it a calm and relatively relaxing place to browse all the independent Plymouth sports shops for their latest offerings.
POPULAR BUSINESSES
Unit7, 25 Old Town Street, Drakes Circus, Plymouth, Devon, PL1 1DA
01752 672024
72 Ridgeway, Plympton, Plymouth, Devon, PL7 2AL
0844 870 9714
OTHER BUSINESSES
720 Snowboard Shop

1 Citadel Ope, Plymouth, Devon, PL1 2JY
01752 600899
Exsports

41 Cornwall Street, Plymouth, Devon, PL1 1NS
01752 260208
First Sport

52 New George Street, Plymouth, Devon, PL1 1RR
01752 253807
Frank Elford Sports

27 Mayflower Street, Plymouth, Devon, PL1 1QJ
01752 659817
Harbour Sports

7 The Parade, Plymouth, Devon, PL1 2JL
01752 660604
Hoppys

10 Mannamead Road, Plymouth, Devon, PL4 7AA
01752 250950
Phil's Soccer Scene

Unit 32, Market Stalls, Plymouth, Devon, PL1 1PR
01752 265903
Saltash Sports

34 Fore Street, Saltash, Plymouth, Devon, PL12 6JL
01752 848730
Tony Pryce Sports

25 Cornwall Street, Plymouth, Devon, PL1 1NW
01752 601010
Whose Sport Footwear

59 Cornwall Street, Plymouth, Devon, PL1 1NS
01752 600819