County Antrim Sports Shops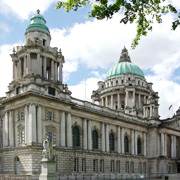 Narrow your results: browse for sport shops in County Antrim towns:
Belfast, Lisburn.
County Antrim in Northern Ireland is well known for its beautiful scenery as well as having Belfast, the capital city, located within its boundary. This has a large modernised shopping centre, and along with other big towns like Antrim, Ballymena, Larne and Lisburn provides the main focus of retailing in the province. There are plenty of shops that cater for most popular sports. Notable retailers include Huge Rugby in Ballymena. They have a fantastic selection of rugby equipment, clothing and footwear from all the major brands.
Gotto Sports in Belfast have been established in the city since 1975 and specialise in equipment for racket sports like tennis, badminton and squash. Aptly named Boxing Equipment is also located in Belfast along with Dunmurry Sports and Celtic Collection. A little further afield in Lisburn you can find Lifestyle Sports as well as The Racquets Shop on Belfast Road.
POPULAR BUSINESSES
Unit 10 Boucher Retail Park, Boucher Crescent, Belfast, County Antrim, BT12 6HU
02890 665003
56, Donegall Place, Belfast, County Antrim, BT1 5BB
02890319132
72 Stranmillis Road, Belfast, County Antrim, BT9 5AD
028 90381722
20 Church Street, Ballymena, County Antrim, BT43 6DE
028 256 45371
OTHER BUSINESSES
Baize Craft

120 Saintfield Road, Ballmacbrennan, Lisburn, County Antrim, BT27 5PG
028 9263 8649
Boxing Equipment

21 Smithfield, Winetavern Street, Belfast, County Antrim, BT1 1JQ
028 9032 2766
Celtic Collection

30 Ann Street, Belfast, County Antrim, BT1 4EG
028 9023 9111
Chaplin Sportswear

Unit 22, Westwoode Centre, Kennedy Way, Belfast, County Antrim, BT11 9BQ
028 9061 1966
Country Classics

68 Bow Street, Lisburn, County Antrim, BT28 1AL
028 9260 3383
Dunmurry Sports

179 Kingsway, Dunmurry, Belfast, County Antrim, BT17 9RY
028 9062 8713
Euro Sports Specialists

84 Antrim Street, Lisburn, County Antrim, BT28 1AU
028 9266 5549
Fashion-Sport

18, Cleveley Park, Belfast, County Antrim, BT8 6NB
028 9070 1407
Jackson Sports

70, High Street, Belfast, County Antrim, BT1 2BE
02890 701 333
Lifestyle Sports

Unit 5 Bow Street Mall, Lisburn, County Antrim, BT28 1AW
028 926 41715
Live 4 Soccer

Unit107, Agnes Street Industrial Estate, Agnes Street, Belfast, County Antrim, BT13 1GB
028 9075 7443
MC Sports

223 Shankill Road, Belfast, County Antrim, BT13 5BB
028 9024 2846
Monagh Sport

Unit 9 Norglen Shops, Norglen Gardens, Belfast, County Antrim, BT11 8EL
028 9060 0851
Podium 4 Sport

40, Montgomery Road, Belfast, County Antrim, BT6 9HL
02890 701 333
Surf Mountain

15 Castle Street, Lisburn, County Antrim, BT27 4SP
028 9266 7171
The Hockey Locker

111 Old Dundonald Road, Dundonald, Belfast, County Antrim, BT16 1XT
028 9041 9899
The Racquets Shop

36 Belfast Road, Lisburn, County Antrim, BT27 4AS
028 9260 7733