Lisburn Sports Shops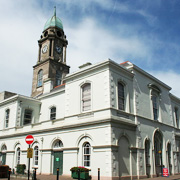 With thriving athletics, football and racquet clubs, Lisburn is Northern Irelandís third largest city with Lisburn Cricket Club being the oldest in the whole of Northern Ireland. JD Sports and JJB Sports occupy large stores in the Bow Street Mall, and large independent Lisburn sports shops like Euro Sports sell all kinds of equipment for activities including hockey, cricket, rugby and swimming.
Other stores in the area includes the mountain sports specialist, Surf Mountain – and those interested in snooker, pool or billiards are sure to love Baize Craft that is located in Ballymacbrennan. Other independent traders are dotted around the city – and we have listed some more of these Lisburn sports shops below.
OTHER BUSINESSES
Baize Craft

120 Saintfield Road, Ballmacbrennan, Lisburn, County Antrim, BT27 5PG
028 9263 8649
Country Classics

68 Bow Street, Lisburn, County Antrim, BT28 1AL
028 9260 3383
Euro Sports Specialists

84 Antrim Street, Lisburn, County Antrim, BT28 1AU
028 9266 5549
Lifestyle Sports

Unit 5 Bow Street Mall, Lisburn, County Antrim, BT28 1AW
028 926 41715
Surf Mountain

15 Castle Street, Lisburn, County Antrim, BT27 4SP
028 9266 7171
The Racquets Shop

36 Belfast Road, Lisburn, County Antrim, BT27 4AS
028 9260 7733