Belfast Sports Shops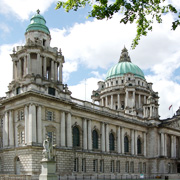 Belfast has a very impressive number of inhabitants that play sport on a regular basis – and this very fact ensures that there is a great variety of specialist Belfast sports shops that supply sporting goods for practically any sport that you can think of.
Of course, the city's proud sporting heritage owes a lot to a single man, George Best, who was born here in Cregagh and who attracted over 100,000 mourners at his funeral. The population's love of watching as well as playing sport continues today – and the diverse range of sports that are enjoyed in Belfast include Gaelic games, ice hockey and American football. Check out our list of independent Belfast sports shops below to find the most appropriate sports retailer for your particular needs.
POPULAR BUSINESSES
Unit 10 Boucher Retail Park, Boucher Crescent, Belfast, County Antrim, BT12 6HU
02890 665003
56, Donegall Place, Belfast, County Antrim, BT1 5BB
02890319132
72 Stranmillis Road, Belfast, County Antrim, BT9 5AD
028 90381722
OTHER BUSINESSES
Boxing Equipment

21 Smithfield, Winetavern Street, Belfast, County Antrim, BT1 1JQ
028 9032 2766
Celtic Collection

30 Ann Street, Belfast, County Antrim, BT1 4EG
028 9023 9111
Chaplin Sportswear

Unit 22, Westwoode Centre, Kennedy Way, Belfast, County Antrim, BT11 9BQ
028 9061 1966
Dunmurry Sports

179 Kingsway, Dunmurry, Belfast, County Antrim, BT17 9RY
028 9062 8713
Fashion-Sport

18, Cleveley Park, Belfast, County Antrim, BT8 6NB
028 9070 1407
Jackson Sports

70, High Street, Belfast, County Antrim, BT1 2BE
02890 701 333
Live 4 Soccer

Unit107, Agnes Street Industrial Estate, Agnes Street, Belfast, County Antrim, BT13 1GB
028 9075 7443
MC Sports

223 Shankill Road, Belfast, County Antrim, BT13 5BB
028 9024 2846
Monagh Sport

Unit 9 Norglen Shops, Norglen Gardens, Belfast, County Antrim, BT11 8EL
028 9060 0851
Podium 4 Sport

40, Montgomery Road, Belfast, County Antrim, BT6 9HL
02890 701 333
The Hockey Locker

111 Old Dundonald Road, Dundonald, Belfast, County Antrim, BT16 1XT
028 9041 9899