Wiltshire Sports Shops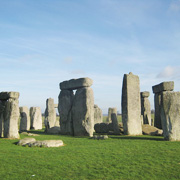 Narrow your results: browse for sport shops in Wiltshire towns:
Salisbury.
Wherever you live in the UK, there's a terrific choice of independent sports shops to satisfy the needs of most athletes or sports fanatics. Wiltshire is no different, and whilst the multiple sports chains continue to expand, niche sports retailers like GT Golf or Less Bounce, both in Salisbury, are also thriving.
The chalk uplands in Wiltshire are perfect for walking and hiking, and shops like Sole Obsession specialise in footwear that helps to protect your feet whatever activity you take part in. No matter what sport you enjoy, there's a Wiltshire sports shop that can not only sell you the right gear, but probably offer you plenty of free advice as well.
POPULAR BUSINESSES
62 Newtown, Shalbourne, Marlborough, Wiltshire, SN8 3PP
0845 0777087
William Russel's House, 9 Queen Street, Salisbury, Wiltshire, SP1 1EY
01722 410659
Unit 25 Parkers Close, Downton Business Centre, Salisbury, Wiltshire, SP5 3RB
08444 870 530
67 High Street, Marlborough, Wiltshire, SN8 1HF
01672-892498
31 Bank Street, Melksham, Wiltshire, SN12 6LE
01225 791317
53 Church Street, Trowbridge, Wiltshire, BA4 8AE
01225 764488
27 The New Severalls, Milton Lilbourne, Pewsey, Wiltshire, SN9 5LL
07929 557013
Unit 25 Parkers Close, Downton Business Centre, Salisbury, Wiltshire, SP5 3RB
08444 870530
OTHER BUSINESSES
GT Golf

Unit 4A, Harnham Trading Estate, Netherhampton Road, Salisbury, Wiltshire, SP2 8NW
01722 414150
Hargreaves

52-54 New Canal, Salisbury, Wiltshire, SP1 2AQ
01722 339907
John Eadie Sports and Fishing Tackle

20 Catherine Street, Salisbury, Wiltshire, SP1 2DA
01722 328535
Less Bounce

The Old Bank, High Street, Netheravon, Salisbury, Wiltshire, SP4 9PQ
01980 671305
Sole Obsession

29 Harnham Road, Salisbury, Wiltshire, SP2 8JG
01722 421000