Salisbury Sports Shops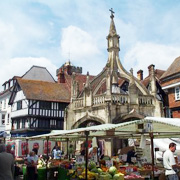 Salisbury has a thriving sports scene with media companies like Sport 4 Salisbury keeping a close eye on the action and providing a one-stop sports news website covering all local sport. Salisbury Area Sport is another organisation with close links to the local sporting community. This organisation helps to develop policy to improve all sports in the area.
The result of all the interest in sport is that there are plenty of Salisbury sports shops that trade in and around the city centre. We're always interested in hearing from Salisbury sport shops that would like to be featured in this directory – so if you run a shop like this, please get in touch.
POPULAR BUSINESSES
William Russel's House, 9 Queen Street, Salisbury, Wiltshire, SP1 1EY
01722 410659
Unit 25 Parkers Close, Downton Business Centre, Salisbury, Wiltshire, SP5 3RB
08444 870 530
Unit 25 Parkers Close, Downton Business Centre, Salisbury, Wiltshire, SP5 3RB
08444 870530
OTHER BUSINESSES
GT Golf

Unit 4A, Harnham Trading Estate, Netherhampton Road, Salisbury, Wiltshire, SP2 8NW
01722 414150
Hargreaves

52-54 New Canal, Salisbury, Wiltshire, SP1 2AQ
01722 339907
John Eadie Sports and Fishing Tackle

20 Catherine Street, Salisbury, Wiltshire, SP1 2DA
01722 328535
Less Bounce

The Old Bank, High Street, Netheravon, Salisbury, Wiltshire, SP4 9PQ
01980 671305
Sole Obsession

29 Harnham Road, Salisbury, Wiltshire, SP2 8JG
01722 421000