Woking Sports Shops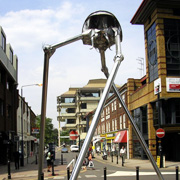 Located in Surrey on the western edge of Greater London, Woking is a medium sized town with a modern town shopping area known simply as Woking Shopping.
Whilst all the usual chain stores are located here, surrounding streets are full of smaller independent retailers including cycle, fishing and sports clothing shops. Cyclists head straight for well-established FW Evans Cycles in Guildford Road or Switchback Cycles in High Street. Both these shops offer a repair service as well as selling great ranges of new cycles and accessories.
Woking has a good choice of sports clubs that cater for most popular sports. Ripley Cricket Club and Woking Gymnastics Club are just two examples although there are others for rugby, football, hockey and tennis. Goldsworth Angling Centre has one of the best choices of rods, reels and fishing equipment in the area, whilst the Sweatshop in Commercial Way sells a selection of clothing for many different sports.
POPULAR BUSINESSES
Hillview Medical Centre, Heathside Road, Woking, Surrey, GU22 7QP
01483 766668
151 Maybury Road, Woking, Surrey, GU21 5LJ
0330 330 9604
OTHER BUSINESSES
Express Stringing Service

141 Rydens Way, Woking, Surrey, GU22 9DQ
07557 911837
Fresh Air Fitness

Unit 16, Boundary Business Centre, Boundary Way, Woking, Surrey, GU21 5DH
01483 608860
FW Evans Cycles

1 Guildford Road, Woking, Surrey, GU22 7PX
01483 723876
Goldsworth Angling Centre

73-75 Goldsworth Road, Woking, Surrey, GU21 6LJ
01483 776667
Ripley Cricket Club

Club House, The Green, Woking, Surrey, GU23 6AR
01483 225484
Sweatshop

19 Commercial Way, Woking, Surrey, GU21 6XR
0845 2177617
Switchback Cycles

31 High Street, Woking, Surrey, GU21 2PP
01483 481773
Woking Gymnastics Club

Kingfield Road, Woking, Surrey, GU22 9AA
01483 771426