Suffolk Sports Shops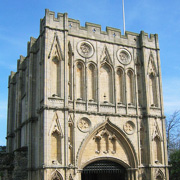 Narrow your results: browse for sport shops in Suffolk towns:
Ipswich.
Suffolk, together with its neighbour Norfolk, is Englandís most easterly county. Much of the region is given over to farming, although notable large towns include Ipswich, Bury St Edmunds, Felixstowe and Lowestoft. Suffolk sports businesses include Gunsmoke Paintball in Ipswich. They cater for beginners as well as seasoned paintball participants, and have an on-site shop for purchasing ammunition. Billís Fishing Tackle also in Ipswich, sells everything the keen angler needs for a successful dayís fishing.
For general sports equipment and sports accessories, Frank Colebyís Sports shop in Lowestoft is the place to go. As Suffolk is a relatively flat area of the country, cycling is a popular sport. Moons Cycles and Pedal Power both in Ipswich are just two examples of shops that sell a good range of bikes and also offer repair services.
POPULAR BUSINESSES
Benton End Farm, Hadleigh, Ipswich, Suffolk, IP7 5JR
07790 143118
OTHER BUSINESSES
Bills Fishing Tackle

33 Nansen Road, Ipswich, Suffolk, IP3 9HP
01473 413753
East Coast Board Riders

129 Bevan Street East, Lowestoft, Suffolk, NR32 2AQ
01728 723524
Frank Coleby's Sports

161-165 London Road North, Lowestoft, Suffolk, NR32 1HQ
01502 574083
Gymnastics in Ipswich

7 Braziers Wood Road, Ipswich, Suffolk, IP3 0SP
01473 433676
Health, Muscle and Fitness

6-8 St. Nicholas Street, Ipswich, Suffolk, IP1 1TJ
01473 226888
Ipswich Bowling Club

Graham Road, Ipswich, Suffolk, IP1 3QE
01473 211161
Moons Cycles

418 Norwich Road, Ipswich, Suffolk, IP1 5DX
01473 464611
Pedal Power

28b Gloster Road, Ipswich, Suffolk, IP5 3RD
01473 610500
Rovian Sports & Leisure

33 St. Peters Street, Ipswich, Suffolk, IP1 1XF
01473 252760
RSH Golf Supplies

7 Upsons way, Ipswich, Suffolk, IP5 2XS
01473 611227
Viscount Fishing Tackle

207 Clapgate Lane, Ipswich, Suffolk, IP3 0RF
01473 728179