Ipswich Sports Shops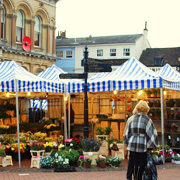 Built on the river Orwell estuary, Ipswich in Suffolk is one of the UK's oldest settlements. Many of Ipswich's sports shops can be found in the thriving town centre and quayside. The area draws thousands of visitors each year, and the relative flatness of the region makes it a haven for cyclists. Moons Cycles in Norwich Road and Pedal Power in Gloster Road are just two of the towns many cycling shops, several of which offer a comprehensive cycle repair service.
The river and nearby coast also attract many fishing enthusiasts; two of the numerous Ipswich fishing shops include Bills Fishing Tackle in Nansen Road and Viscount Fishing Tackle in Clapgate Lane. New rods, reels and accessories are always available as well as a selection of live bait. Paintball fanatics have a great facility in Ipswich with Gunsmoke Paintball that offers players four different action zones.
POPULAR BUSINESSES
Benton End Farm, Hadleigh, Ipswich, Suffolk, IP7 5JR
07790 143118
OTHER BUSINESSES
Bills Fishing Tackle

33 Nansen Road, Ipswich, Suffolk, IP3 9HP
01473 413753
Gymnastics in Ipswich

7 Braziers Wood Road, Ipswich, Suffolk, IP3 0SP
01473 433676
Health, Muscle and Fitness

6-8 St. Nicholas Street, Ipswich, Suffolk, IP1 1TJ
01473 226888
Ipswich Bowling Club

Graham Road, Ipswich, Suffolk, IP1 3QE
01473 211161
Moons Cycles

418 Norwich Road, Ipswich, Suffolk, IP1 5DX
01473 464611
Pedal Power

28b Gloster Road, Ipswich, Suffolk, IP5 3RD
01473 610500
RSH Golf Supplies

7 Upsons way, Ipswich, Suffolk, IP5 2XS
01473 611227
Viscount Fishing Tackle

207 Clapgate Lane, Ipswich, Suffolk, IP3 0RF
01473 728179