Shropshire Sports Shops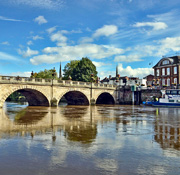 Narrow your results: browse for sport shops in Shropshire towns:
Telford.
Sports Shop UK is a free directory that any UK-based shop is entitled to join. This is the page on our website that details all the Shropshire. sport shops that we have listed.
Cick here to access more information about how to add your sports business to this page. Your Shropshire toy shop could be featured on these pages within 48-hours.
POPULAR BUSINESSES
Unit 502, Queensway Business Park, Telford, Shropshire, TF1 7UL
01952 676029
OTHER BUSINESSES
Cycle-Clothing

8 Brookvale Road, Telford, Shropshire, TF2 9RL
07719 274517
Donnington Wood Bowling Club

School Road, Telford, Shropshire, TF2 8HT
01952 608100
Fit4Rehab

20 Ironbridge Road, Telford, Shropshire, TF7 5SU
07921 781694
Flight Tech

Unit 1, Trench Lock 3, Telford, Shropshire, TF1 5ST
01952 259200
Perry's Cycles

33 Tan Bank, Telford, Shropshire, TF1 1HJ
01952 244802
Seaton Sports

15 Market Square, Telford, Shropshire, TF1 1BU
01952 252259
The Bicycle Hub

Fusion, Church Road, Telford, Shropshire, TF8 7AP
01952 883249