Telford Sports Shops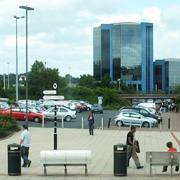 As the largest town in Shropshire, Telford has many established sports organisations, competing at all levels. These include team games such as ice hockey, football, rugby league, American Football, golf cricket and snooker. If you prefer something a little less physical, you could try the Donnington Wood Bowling Club in School Road – they're always keen to take on new members.
Sports participants and athletes have a great choice of Telford sports retailers to choose from. Perry's Cycles in Tan Bank and The Bicycle Hub in Church Road both offer a first class cycle repair service as well as a good choice of cycle accessories. Body building fans will make a bee line for Dynamic Sports Nutrition in Queensway Business Park. They sell their products online to customers all over the UK, and have a retail shop inside their warehouse for local customers. If you've overdone the exercise and need some rehabilitation, try Fit4Rehab in Ironbridge Road.
Any Telford sports business is eligible for a free listing on Sports Shop UK.
POPULAR BUSINESSES
Unit 502, Queensway Business Park, Telford, Shropshire, TF1 7UL
01952 676029
OTHER BUSINESSES
Cycle-Clothing

8 Brookvale Road, Telford, Shropshire, TF2 9RL
07719 274517
Donnington Wood Bowling Club

School Road, Telford, Shropshire, TF2 8HT
01952 608100
Fit4Rehab

20 Ironbridge Road, Telford, Shropshire, TF7 5SU
07921 781694
Flight Tech

Unit 1, Trench Lock 3, Telford, Shropshire, TF1 5ST
01952 259200
Perry's Cycles

33 Tan Bank, Telford, Shropshire, TF1 1HJ
01952 244802
Seaton Sports

15 Market Square, Telford, Shropshire, TF1 1BU
01952 252259
The Bicycle Hub

Fusion, Church Road, Telford, Shropshire, TF8 7AP
01952 883249