Nottinghamshire Sports Shops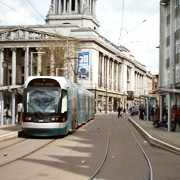 Narrow your results: browse for sport shops in Nottinghamshire towns:
Nottingham.
Whilst Nottinghamshire may be best known for the Robin Hood legend, this Midlands county has plenty of other places of interest. With towns like Nottingham, Kirkby in Ashfield, Mansfield and Newark all having major shopping centres, there's no shortage of Nottinghamshire sports shops situated all over the area. Online extreme sports retailer CerberusXS have their base in the county, and plenty of other Nottinghamshire sports shops specialise in fishing, hockey, cricket, tennis and dozens of other active sports. Check out our great selection of Nottinghamshire sports retailers here.
FEATURED BUSINESSES

Online sellers of Sungazer swimming goggles and other swimming accessories.
Read more about Multisilica >>
POPULAR BUSINESSES
Castle Buildings, Castle Boulevard, Nottingham, Nottinghamshire, NG7 1SA
01159 576890
Nottingham Road East, Ikea Retail Park, Nottingham, Nottinghamshire, NG16 2RP
0115 938 7100
Nottingham Tennis Centre, University Boulevard, Nottingham, NG7 2QH
0115 925 4242
Main Street, Langar, Nottingham, Nottinghamshire, NG13 9HE
01949 898205
42-44 Clumber Street, Nottingham, Nottinghamshire, NG1 3GD
01159 941 5539
8 Ash Tree Square, Bramcote, Nottingham, Nottinghamshire, NG9 3HJ
08455 192 123
OTHER BUSINESSES
Aikon Sports

44 West End Arcade, Nottingham, Nottinghamshire, NG1 6JZ
0115 950 8173
CrazyKenny's

Unit 1, Thievesdale Close, Worksop, Nottinghamshire, S81 0XS
Custom Cricket

Unit 2, Wilford Industrial Estate, Ruddington Lane, Nottingham, Nottinghamshire, NG2 5BN
0115 982 4535
Hockey Shop

157 Lower Parliament Street, Nottingham, Nottinghamshire, NG1 1DP
0115 958 8811
Hucknall Sports

2A High Street, Hucknall, Nottingham, Nottinghamshire, NG15 7HD
0115 952 1122
Planet Health

4 Castle Boulevard, Nottingham, Nottinghamshire, NG7 1FB
0115 941 3112
S & N Sports & Fashion

29 Claremont Avenue, Bramcote, Nottingham, Nottinghamshire, NG9 3DG
0115 925 4652
Sabre Sports

42-44 Outram Street, Sutton in Ashfield, Nottinghamshire, NG17 4FS
01623 512849
Stateside

Wildcats Arena, Greenwood Road, Nottingham, Nottinghamshire, NG3 7EB
0115 924 2000
The Bowls Shop

1 Peppercorn Gardens, Nottingham, Nottinghamshire, NG8 1NT
0115 929 2233
Up & Running

286 Huntingdon Street, Nottingham, Nottinghamshire, NG1 3NA
0115 924 2242