Manchester Sports Shops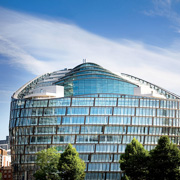 Narrow your results: browse for sport shops in Manchester towns:
Bury.
Sometimes referred to as the UK's second city thanks to thriving arts, media and commerce industries within the area, Manchester is highly regarded as a centre for sport – and this ensures that there is a great selection of Manchester sports shops to choose from.
Perhaps best known for their two Premiership football clubs , Manchester City and Manchester United, the city was host to the 2002 Commonwealth Games which meant that the city now continues to enjoy top-class sporting facilities, particularly with the National Squash Centre and the indoor cycling velodrome that has seen many world records broken within it. Whatever sport you are into, you should be able to find plenty of specialist Manchester sports shops for your needs.
POPULAR BUSINESSES
Unit 2, 118-124 Deansgate, Manchester, M3 2GQ
0161 839 9255
49 Market Street, Manchester, M1 1WR
01618 195990
39 Overbridge Road, Salford, Manchester, M7 1SL
0161 8326665
Rivendell Fold, 65 Church Road, Urmston, Manchester, M41 9EJ
0845 805 1185
Online Only, Manchester, M35 9NB
Unit 1, 751-807 Princess Parkway, Manchester, M20 2ZE
0161 4484444
8 Newton Street, Manchester, M1 2AN
01612 360966
OTHER BUSINESSES
Bury Sports

12 Bolton Street, Bury, Bury, BL9
0161 764 1915
Cavendish Sports

136-138 Higher Road, Urmston, Manchester, M41 9AZ
0161 747 5089
Climbing-Terekpl

90 Valley Mill Lane, Bury, BL9 9BY,
01617645053
Crown Sports

49 High Street, Manchester, M4 3AH
0161 839 7697
Goal Keeping Supplies

270 Lightbowne Road, Manchester, M40 5QH
0161 681 3640
K A L Sport

5 Hale Top, Wythenshawe Shopping Centre, Manchester, M22 5RN
0161 437 9009
Perrigo Darts

79 Market Street, Droylsden, Manchester, M43 6DD
0161 370 3956
Pyramid Sports

243 Bury Old Road, Prestwich, Manchester, M25 1JE
0161 798 7448
Red Star Sports and Souvenirs

686 Old Trafford, Manchester, M32 0SF
0161 872 0327
Ridelow

27-29 Church Street, Manchester, M4 1PE
0161 834 5788
Size

18 Market Street, Manchester, M1 1PT
0161 839 8086
Tennis Authority Store

Heywood Old Road, Middleton, Manchester, M24 4TH
0161 643 5879
Total Swimming

1-2 Frecheville Court, Bury, BL9 0UF
0844 800 4323