Loughborough Sports Shops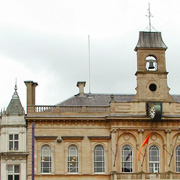 The historic town of Loughborough is home to an impressive number of sports clubs as well as a university that is revered for its sporting prowess. Although it can no longer boast a professional football club, Loughborough RFC plays at Derby Road and there are other societies for netball, tennis, cricket and swimming.
The Japanese Olympic team chose Loughborough to be their base for the 2012 games, and this has helped secure Loughborough's place on the UK's sporting map. A large student population combined with a good number of permanent residents means that there's no shortage of sports shops to supply pretty much whatever the amateur sportsman or woman needs.
Whilst big chains like JJB Sports occupy The Rushes Shopping Centre, if you travel just a little further afield you will discover some great independent retailers like Running Fox on Ashby Road that offers running shoes, clothing, gait analysis and much more. Similarly, Talent Cricket is based in Loughborough and provides one of the most extensive ranges of cricket gear you'll find anywhere.
POPULAR BUSINESSES
East Leake, Loughborough, LE12 6HD
01509 820801
OTHER BUSINESSES
Dave Nobles

Units 1-3, Wymeswold Industrial Park, Burton-on-the-Wolds, Loughborough, LE12 5TY
01509 881111
Merlin Archery

Bull In The Hollow Farm, Loughborough Road, Loughborough, LE12 8UE
01509 233555
Midland Dancewear

Charnwood Leisure Centre, Browns Lane, Loughborough, LE11 3HE
01509 231832
Running Fox

70 Ashby Road, Loughborough, LE11 3AE
01509 231750
Sports Direct

Unit 2, The Rushes, Loughborough, Leicestershire, LE11 5BE
08443325065
Talent Cricket

Unit 2, 31 Bakewell Road, Loughborough, LE11 5QY
01509 266666