Leicester Sports Shops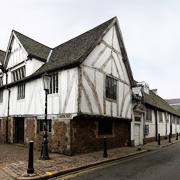 At one time declared by many locals to be the UK's "sporting capital", Leicester has had some good sporting acheivements and continues to thrive with many excellent Leicester sports shops catering for all types of sporting activity.
With pro (or semi pro) teams including sports such as football, basketball, athletics and rugby, there is certainly a proud sporting heritage in and around the city – and that is backed up by the fact that Leicester was chosen to stage the highly successful British Special Olympics in 2009. Browse our selection of independent Leicester sports shops below – and by all means make suggestions of other shops that should be listed here if you feel we have missed anyone.
POPULAR BUSINESSES
5 Gallowtree Gate, Leicester, Leicestershire, LE1 5AD
01162626214
Toad Hall, 5 Frog Island, Leicester, Leicestershire, LE3 5AG
0116 2627280
9 Upper George Street, Leicester, Leicestershire, LE1 3LP
0116 262 7332
6 Carts Lane, Leicester, Leicestershire, LE1 5FL
0116 262 2113
OTHER BUSINESSES
MR Sports

36 Wood Street, Shilton, Leicester, Leicestershire, LE9 7ND
01455 843566
QD Sports

88 ShiresWalk, High Street, Leicester, Leicestershire, LE1 4FR
0116 262 2652
Shoe Steps

137 Melton Road, Leicester, Leicestershire, LE4 6QS
0116 261 0838
Smart GB

122-124 Belgrave Gate, Leicester, Leicestershire, LE1 3XJ
0116 262 9696
Spot On Sports

74 Beatrice Road, Leicester, Leicestershire, LE3 9FE
0116 251 8224
Squash Stuff

31 Ashby Rise, Great Glen, Leicester, Leicestershire, LE8 9GB
0116 259 3897
The Hockey Warehouse

Toad Hall, 5 Frog Island, Leicester, Leicestershire, LE3 5AG
0116 262 7280
Withers Intersport Club Shop

4 Westernhay Road, Leicester, Leicestershire, LE2 3HF
0116 270 3500
Withers Sports

35 Market Street, Leicester, Leicestershire, LE1 6DN
0116 254 8301