Southampton Sports Shops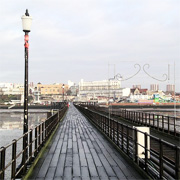 The largest city in Hampshire has attracted some big-name football players over the years, with names like Kevin Keegan, Alan Shearer and Matthew Le Tissier being among the former players of The Saints. With its marinas, the city is also well-placed for many watersports including yachting – and the large population ensures that there are still plenty of independent Southampton sports sports to provide all manner of sporting equipment and clothing to the residents.
With large stores like Sports Direct and JJB Sports in the West Quay Shopping Centre, the city has a good selection of retailers to find popular clothing brands and other basic sporting equipment. Don't overlook some of the excellent independent Southampton sports shops though that provide the inhabitants of Southampton with specialist kit for a wide variety of pursuits.
POPULAR BUSINESSES
13 Lower Northam Road, Hedge End, Southampton, Hampshire, SO30 4FN
01489 799555
14 Shirley High Street, Shirley, Southampton, SO15 3NH
023 805 11931
10 Hedgerow Close, Rownhams, Southampton, Hampshire, SO16 8JU
02380 740306
OTHER BUSINESSES
Andark Diving & Watersports

256 Bridge Road, Swanwick, Southampton, SO31 7FL
01489 581 755
Bells of Hythe

9-10 New Road Hythe, Southampton, SO45 6BP
023 8084 2065
CycleWorld

36-38 Thornhill Park Road, Southampton, SO18 5TQ
023 8047 1140‎
Holt & Haskell

387 Shirley Road, Southampton, SO15 3TS
023 8077 1839
March Sports

14 Shirley High Street, Southampton, SO15 3NH
023 8051 1931
Saint Store

West Quay Shopping Centre, Southampton, SO15 1QB
023 8033 7104
Sholing Cycle Centre

10 Station Road, Southampton, SO19 8HH
023 8043 6190
Sports Mania

441 Bitterne Road, Bitterne Village, Southampton, SO18 5EE
023 8043 8899
Sports World

West Quay Shopping Centre, Southampton, SO14 7DZ
0870 333 9508
SubSeventy Golf Clothing

12 Precosa Road, Botley, Southampton, SO30 2NX
0844 800 9570
The Racquet Centre

96 High Road, Southampton, SO16 2HZ
023 8058 2577