Pontypridd Sports Shops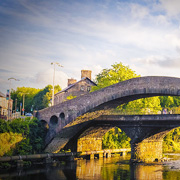 Located just 10 miles away from Cardiff, Pontypridd is the proud home of one of Wales's most distinguished rugby union clubs, Pontypridd Rugby Football Club. The club plays in the Principality Premiership and also has a thriving junior team.
Elsewhere in Pontypridd, a variety of other sports are played including football, bowls and darts. All this means that the town has a smattering of specialist sports shops providing beginner and professional equipment to sports fans. Merlin Sports is a great all-round sports shop that even offers a range of camping and hiking equipment. Cyclone Cycles and Cyclelogical are two of the good independent Pontypridd cycle shops that we know of - but don't hesitate to let us know of any more that should be listed here.
POPULAR BUSINESSES
Unit F6, Main Avenue, Treforest Industrial Estate, Pontypridd, Glamorgan, CF37 5UR
01443 843431
OTHER BUSINESSES
Big Country Motocross

CBS House, 40 Robert Street, Pontypridd, Glamorgan, CF37 3DY
01443 791935
CBS Golf Buggies

LOck House, Glyn-Dwr Avenue, Pontypridd, Glamorgan, CF37 5PL
01443 491019
Cyclelogical

3 The Precinct, Main Road, Pontypridd, Glamorgan, CF38 1SB
01443 218700
Cyclone Cycles

10b, Park Street, Pontypridd, Glamorgan, CF37 1SN
01443 650673
Kiss Shot Pool Club

1 Fothergill Street, Pontypridd, Glamorgan, CF37 1SG
01443 402102
Taff-Ely Indoor Bowling Centre

Gelliwastad Road, Pontypridd, Glamorgan, CF37 2BP
01443 485051