Cardiff Sports Shops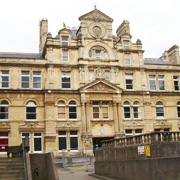 It's no surprise that with the title of the 2009 "European City of Sport", Cardiff has an outstanding sporting tradition with a series of world-class and world-famous sporting venues. With rugby, football and cricket being especially loved sports within the city, the sheer range of Cardiff sports shops selling all kinds of specialist equipment ensures that for sport-lovers in the area, Cardiff really is the destination of choice.
It is not just the major sports that Cardiff excels in. The city has a strong reputation for hosting high-profile boxing fights, for hosting various motorsports events in the Millenium Stadium, and for enjoying thriving basketball, yachting and cycling communities. All this means that the city is an excellent choice for hunting down all kinds of sports equipment – and we welcome all Cardiff sports shops to join this directory simply by telling us a little about their store.
POPULAR BUSINESSES
11 Wharton Street, Cardiff, CF10 1AG
02920 399796
North Road, Cowbridge, Vale of Glamorgan, Cardiff, CF71 7DF
01446 775778
Unit 20,Queens Arcade, Cardiff, CF10 2BY
02920 668749
Grove House, Grove Street, Cardiff, SA2 0PP
02920 644443
2 Amesbury Road, Cardiff, CF23 5DW
07525 234520
86-90 Crwys Road, Cathays, Cardiff, CF24 4NP
029 2023 7968
OTHER BUSINESSES
Cardiff Sportsgear

188-194 Whitchurch Road, Cardiff, CF14 3NB
029 2062 6773
City Surf Skate & Snow

29 Castle Arcade, Cardiff, CF10 1BW
029 2034 2068
Cotswold Bowls

164 Whitchurch Road, Cardiff, CF14 3NA
029 2062 6173
K C Sports

173 Central Market, St Mary's Street, Cardiff, CF10 1AU
029 2022 5474
Pure Rugby

47-48 St. Mary Street, Cardiff, CF10 1AD
029 2022 1234
Run & Become

St.Davids House, 12 Wood Street, Cardiff, CF10 1ER
029 2115 7280
Shop Physical

Unit 1, Kodak House, Abergarw trading Estate, Brynmenyn, Cardiff, CF32 9LW
0800 0234810
Shop Rugby

8 Duke Street, Cardiff, CF10 1AY
029 2066 4466
YC Sports

40 Crwys Road, Cardiff, CF24 4NP
029 2023 7968