Brighton & Hove Sports Shops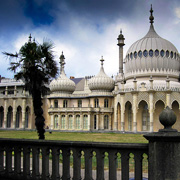 Such a wealth of sport takes place in Brighton that it's hard to know where to start. The town is home to literally so many different sports clubs and teams that as a sports fan you will never be short of things to watch or play. This is great if you partake in sports, since a keen sporting community means that there are plenty of dedicated Brighton sports shops providing products for all interests.
You will find Brighton sports shops dotted all over the town, with many of them clustered quite closely together between the Toy and Model Museum and the seafront. Shops like The Jog Shop supply everything for the amateur athlete, whilst more general shops like Swift Sports can provide equipment for a large variety of sports including football, cricket and boxing.
POPULAR BUSINESSES
368 Kingsway, Brighton & Hove, East Sussex, BN3 4QT
01273 420142
Unit 70-71, Churchill Square, Brighton & Hove, East Sussex, BN1 2TB
01273739908
4 Warren Way, Woodingdean, Brighton, East Sussex, BN2 6PJ
01273 307271
64 Church Road, Hove, East Sussex, BN3 2FP
01273 251700
54-55 Market Street, Brighton & Hove, East Sussex, BN1 1HH
01273 827660
39 Grand Parade, Brighton, East Sussex, BN2 9QA
01273 605625
OTHER BUSINESSES
Bone Idol

125 Kings Road Arches, Brighton, East Sussex, BN1 2FN
01273 770666
First

Brighton Health & Raquet Club, Village Way, Falmer, Brighton, East Sussex, BN1 9SG
01273 624359
Premier Sports & Leisure

124 Cowley Drive, Woodingdean, Brighton, East Sussex, BN2 6TD
01273 709242
Run

46 Blatchington Road, Hove, East Sussex, BN3 3YH
01273 770972
Sheactive

5 North Street, Brighton, East sussex, BN1 1EB
01273 739725
Sporting Colours

94A Gloucester Road, Brighton, East Susssex, BN14AP
01273 670555
Surf & Ski Sports

1-2 Regent Street, Brighton, East Sussex, BN1 1UL
01273 673192
Swift Sports

39 Grand Parade, Brighton, East Sussex, BN2 9QA
01273 605625
The Jog Shop

39b George Street, Brighton, East Sussex, BN2 1RJ
01273 675717