Bournemouth Sports Shops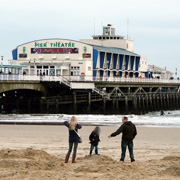 Whilst many of Bournemouth's elder residents would not be normally looking in sports shops, there's plenty of choice for those younger sportsmen and sportswomen for whom fitness is a way of life. Primera in the Charmouth area is a great Bournemouth sports shop that specialises in everything to do with cycling – bikes and accessories for all budgets. Up and Running have plenty of running shoes and clothing as well as a lot of free advice. If rugby is your game then look no further than Rugby Moves in Wimborne Road for anything to do with this popular game, whilst Bournemouth sports shop known as the Wetsuit Centre is for all those people who love swimming and surfing in the sea.
Any Bournemouth sports shop can have a free listing in this specialist directory.
POPULAR BUSINESSES
244 Charminster Road, Charminster, Bournemouth, Dorset, BH8 9RR
01202 775588
OTHER BUSINESSES
Double Top Darts Shop

650 Wimborne Road, Winton, Bournemouth, Dorset, BH9 2AR
01202 534180
Rugby Moves

1268 Wimborne Road, Bournemouth, Dorset, BH10 7AQ
01202 581080
Up and Running

442 Wimborne Road, Bournemouth, Dorset, BH9 2HB
01202 906165
Wetsuit Centre

42a Sea Road, Boscombe, Bournemouth, Dorset, BH5 8JL
01202 302943
Workout of Westbourne

115 Poole Road, Bournemouth, Dorset, BH4 9BG
01202 766618