Derbyshire Sports Shops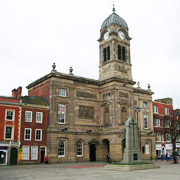 Narrow your results: browse for sport shops in Derbyshire towns:
Chesterfield, Derby.
With a large part of the Peak District National Park located within Derbyshire, itís no surprise that a large number of walking and hiking shops are located in the county. Important towns with shopping centres include Ashbourne, Chesterfield, Matlock and Derby, although there is a good choice of Derbyshire sports shops all over the county. One major independent sports retailer is Lifestyle-Boardzone in Heanor. They sell an amazing selection of snowboards and accessories including goggles, boots, storage bags and technical clothing.
Cricket-Hockey Direct is an online sports store based in Draycott. They have a terrific choice of anything to do with these two major sports including clothing, equipment and accessories. The Derby Runner in Derby can offer you almost any make of running shoes or clothing, and John Stubbs Sports in Ashbourne is a good all round sports retailer. Any sports business can join this directory for free.
POPULAR BUSINESSES
110 East Street, Doe Lea, Chesterfield, Derbyshire, S44 5DL
01246854597
30 St Peter's Street, Derby, Derbyshire, DE1 1SH
01332265724
OTHER BUSINESSES
Ace Sports

49 Duke Street, Chesterfield, Derbyshire, S43 3PD
01246 382317
Cricket Equipment

Faraday House, Woodyard Lane, Foston, Derby, Derbyshire, DE65 5DJ
01283 585955
Cricket Hockey Direct

27 Victoria Road, Draycott, Derby, Derbyshire, DE72 3PS
01332 873773
F C Racquets & Fitness

Riverside Road, Pride Park, Derby, Derbyshire, DE24 8HY
01332 205202
Igloo Cycles

11a Old Hall Road, Chesterfield, Derbyshire, S40 3RG
07930 683117
Import Air

Dunston Innovation Centre, Dunston Road, Chesterfield, Derbyshire, S41 8NG
0845 1080108
J E James Cycles

Progress House, Brimington Road, Chesterfield, Derbyshire, S41 9AP
01246 453453
John Stubbs Sports

27 St.John Street, Ashbourne, Derbyshire, DE6 1GP
01335 343118
Mr Kickz

42 Theatre Walk, Eagle Centre, Derby, Derbyshire, DE1 2NG
01332 345221
PDH Sports

25 Town Street, Belper, Derbyshire, DE56 4EH
01332 843139
Pro4Sport

Unit 3b, Broom Business Park, Sheepbridge, Chesterfield, Derbyshire, S41 9QG
0800 652 2944
Reaction Ladies Only Kickboxing

Boythorpe Avenue, Chesterfield, Derbyshire, S40 2NS
07746 705311
Spire Sports

12 Seagrave Drive, Chesterfield, Derbyshire, S41 0YE
0845 519 5965
The Cycle Surgeon

22 Blue Bell Close, Chesterfield, Derbyshire, S43 3GE
07583 167575
The Derby Runner

Unit ABC, Sandringham Drive, Spondon, Derby, Derbyshire, DE21 7QL
01332 280048
Thomas Irving's Equestrian Store

Dunston Road, Sheepbridge, Chesterfield, Derbyshire, S41 9QD
01246 269 190