Chesterfield Sports Shops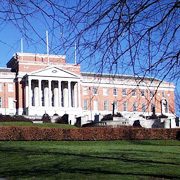 Famous for having one of the largest open air markets in the UK, Chesterfield in Derbyshire has a thriving town centre with a great selection of sports shops. The Pavements Shopping Centre is full of many major retailers, whilst specialist sports shops are spread amongst parts of the old town centre. Cycling is a popular activity in the region with Igloo Cycles, J E James Cycles and The Cycle Surgeon just three examples of many bicycle dealers in the town.
Ace Sports in Duke Street offers their customers a good choice of sporting equipment and clothing, whilst Thomas Irving's Equestrian Store in Sheepbridge is the perfect outlet for all horse lovers needing saddles, clippers, stirrups or collars. The online business, Absolute Sports Nutrition, trades from Doe Lea in Chesterfield and offers their customers a superb range of nutritional sports drinks and supplements, as well as lots of free advice.
POPULAR BUSINESSES
110 East Street, Doe Lea, Chesterfield, Derbyshire, S44 5DL
01246854597
OTHER BUSINESSES
Ace Sports

49 Duke Street, Chesterfield, Derbyshire, S43 3PD
01246 382317
Igloo Cycles

11a Old Hall Road, Chesterfield, Derbyshire, S40 3RG
07930 683117
Import Air

Dunston Innovation Centre, Dunston Road, Chesterfield, Derbyshire, S41 8NG
0845 1080108
J E James Cycles

Progress House, Brimington Road, Chesterfield, Derbyshire, S41 9AP
01246 453453
Pro4Sport

Unit 3b, Broom Business Park, Sheepbridge, Chesterfield, Derbyshire, S41 9QG
0800 652 2944
Reaction Ladies Only Kickboxing

Boythorpe Avenue, Chesterfield, Derbyshire, S40 2NS
07746 705311
The Cycle Surgeon

22 Blue Bell Close, Chesterfield, Derbyshire, S43 3GE
07583 167575
Thomas Irving's Equestrian Store

Dunston Road, Sheepbridge, Chesterfield, Derbyshire, S41 9QD
01246 269 190